This is the latest panel discussion featuring Ramola D, Michelle Young,  Dr. Christiane Northrup, Ellen Brown, Fiona Marie Flanagan, Simone Marshall, and Dr. John Reizer.
This was a powerful and focused panel addressing police abuse of powers and government overreach in citizens' public attacks during these COVID times. We discussed the great need for people to awaken to an awareness of their own human rights and sovereignty, the dangers of masks, and the mRNA COVID vaccine–which will deform the human genome, sterilize the population, inject nanobots, and biosensors, connect you to AI and techno-commoditize the entire population.
We also discussed important actions people can take, such as writing letters and emails to governments and health policy organizations, posting flyers, joining with critically-thinking neighbors, forming local groups, joining in class action lawsuits such as Pamela Popper's lawsuit, speaking up, dissecting and sharing awareness of how language is used against us.
Other topics included common law, natural law, live life claims, a new banking system linked to government treasury rather than private central banks, and ending debt-based banking, and more.
___________________________________
THE TARGET LIST MOVIE IS COMING TO AMAZON PRIME, AND WE'RE ABOUT TO EXPOSE BIG PHARMA!
UPDATE! — CAST AUDITIONS WILL BE HELD DECEMBER 20, 2020!
In association with River Rose Productions, Mad Wife Productions has announced that auditions for The Target List movie will be held in December 2020.
The pilot movie (screenplay written by MJ Palo and John Reizer) is based on the 2019 novel by John Reizer and will be filmed in March 2021. The Target List will be released in the summer of 2021 on Amazon Prime.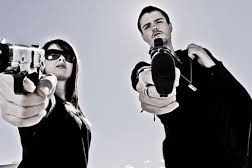 The Target List IMDb Official Movie Page 
GOFUNDME DONATIONS OF ANY AMOUNT ARE GREATLY APPRECIATED — PLEASE CLICK HERE!
$2,596.00 GIVEN SO FAR. (A HUGE THANK YOU GOES OUT TO ALL THE NOFAKENEWS VISITORS WHO HAVE SUPPORTED THIS PROJECT!) ❤