I have some exciting information to pass on to readers of NoFakeNews. On Saturday, November 28, I was invited to participate in a panel that featured some knowledgeable people from the United States and the United Kingdom. We had an extensive discussion about everything happening in the world, including Covid-19. The discussion was sometimes challenged by Internet connectivity issues, but I think the finished product will be well worth the time for people to watch and listen.
The panel discussion was hosted by Ramola Dharmaraj (Ramola D.) and Michelle Young. The panel guests included besides yours truly:
Dr. Andrew Kaufman, a powerful public speaker at Trafalgar Square, who was recently interviewed by David Icke and earlier this year by Brian Rose of London Real. http://www.andrewkaufmanmd.com/
Sandi Adams, an expert on the UN Agenda 2030. http://www.sandiadams.uk/

Ellen Brown

, an expert on international banking. www.ellenbrown.com
Justin Walker, an individual who has many solutions for humanity concerning new governing and new banking practices. www.newchartssitmovement.org.uk/
The purpose of the panel discussion was twofold:
1. To help bring awareness to the world community about the genocidal plan currently being rolled out by the controlling powers.
2. To try and figure out pragmatic solutions to our current predicament, so we can end the madness.
The panel will hopefully attract more and more prominent people in the future so that we can continue to work on ways to resolve the problems facing the world community.
I will post the panel discussion here on NoFakeNews as soon as it goes online.
___________________________________
THE TARGET LIST MOVIE IS COMING TO AMAZON PRIME, AND WE'RE ABOUT TO EXPOSE BIG PHARMA!
In association with River Rose Productions, Mad Wife Productions has announced that auditions for The Target List movie will be held in December 2020.
The pilot movie (screenplay written by MJ Palo and John Reizer) is based on the 2019 novel by John Reizer and will be filmed in March 2021. The Target List will be released in the summer of 2021 on Amazon Prime.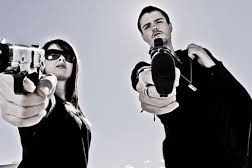 The Target List IMDb Official Movie Page 
GOFUNDME DONATIONS OF ANY AMOUNT ARE GREATLY APPRECIATED — PLEASE CLICK HERE!
$2,196.00 GIVEN SO FAR. (THANK YOU!!!)