I don't like to write too much about US presidential politics for several reasons. The main one is that things will not drastically change, in my opinion, regardless of what puppet is installed as the POTUS. Case in point: Donald Trump is the Warp Speed Vaccine President, and Joe Biden will become the mandatory face mask and vaccine commander-in-chief. Pick your poison, but keep in mind, it's still poison.
Like in many parts of the world, the rollout of a massive vaccine program is swinging into full action in America. As this agenda picks up speed, there will be massive health casualties. Some people will die instantly; others will perish days, weeks, months, and years later.
People tend to think of vaccine injuries as something that always happens within minutes of receiving the products. This is not true. Most vaccine injuries begin to surface in victims long after the shots were received, which is why many people have a hard time making the connection that their illnesses were caused by said medicines.
False flags, psyops, distractions, and whatever else you want to call the smoke and mirror shenanigans that are regularly staged the world over by the few who control the many to keep the masses hypnotized, confused, and addicted to the mainstream media corporations come in all different forms. What happened yesterday, January 6, 2021, was such an event.
Hundreds of thousands of Americans went to Washington, DC on the sixth of January to protest what they believed was a US presidential election that had been wrought with voter fraud.
Instead of focusing our national attention and zeal on a more disturbing situation transpiring for the last year — a genocidal plot to cull the world's population — millions of Americans continue to pour their energy into one of two divisive political parties that are, for all intents and purposes, the same damn thing.
I think, for the most part, the people who attended the Washington, DC protests did so peacefully. America was built on protests and yesterday was a good example of what people who are passionate about something will do to express their passion.
Then, something suddenly went awry, and there was violence as some of the protestors breached the security lines established by the DC police and stormed the Capitol building. Are you kidding me? How gullible are people? The DC police weren't born yesterday. They have been handling massive protests forever. That's what they are trained to do, and so are other secret service agencies that are specifically employed to guard the Capitol building and others like it.
Do you think there might have been an inadequate number of policemen and women intentionally positioned around the Capitol building's perimeter? Do you think that maybe the people who initially made the violent protest push into the US Capitol might have been professionally hired protestors? Do you think it's that easy to force your way into the US Capitol complex without some inside help?
What does a false flag event like the one that happened yesterday accomplish for the powers that be? The answer is simple and straight forward — it creates divisiveness amongst Americans. The headlines will read, "Trump supporters storm US Capitol building," which immediately sets the stage for more people to be in opposition.
The more people who become divided and concentrating their attention on the political garbage currently taking place, the fewer people will become united and able to stand together and fight the lockdowns, the mask-wearing, and the deadly vaccines that continue to be pushed onto an unsuspecting and half-asleep American public.
Donald Trump and Joe Biden are opposames (public figures designed to intentionally look different, but are actually the same damn thing). Both men fully support the medical-industrial complex, the driving force behind administering toxic vaccines to billions of people globally.
Don't be fooled by the sleight of hand tricks being orchestrated by the controlling powers and the mainstream media. They are trying to get people to take their eyes off what is really important and focused on another psyop. Don't fall for the trickery — your life depends upon understanding that the COVID-19 virus is fake, and the vaccine rollout is a genocidal plot to cull the human population.
________________________________
PLEASE SIGN MY COVID-19 PETITION THAT REJECTS THE OFFICIAL NARRATIVE AND INVITATION TO TAKE THE VACCINE.
Next, screenshot your signed name on the petition platform, print a hardcopy, and keep it in a safe place.
PLEASE SIGN MY COVID-19 PETITION THAT REJECTS THE OFFICIAL NARRATIVE AND INVITATION TO TAKE THE VACCINE.
____________________________________
THE TARGET LIST MOVIE IS COMING TO AMAZON PRIME, AND WE'RE ABOUT TO EXPOSE BIG PHARMA!
In association with River Rose Productions, Mad Wife Productions has announced that The Target List movie will be filmed in March 2021.
UPDATE! — CAST TO BE ANNOUNCED SOON!
The pilot movie (screenplay written by MJ Palo and John Reizer) is based on the 2019 novel by John Reizer and will be filmed in March 2021. The Target List will be released in the summer of 2021 on Amazon Prime.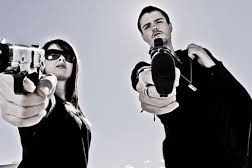 The Target List IMDb Official Movie Page 
GOFUNDME DONATIONS OF ANY AMOUNT ARE GREATLY APPRECIATED — PLEASE CLICK HERE!
What is the story?
After announcing a ground-breaking cancer cure, two members of a research team are shot by an assassin. The remaining two researchers barely escape the attack, only to find themselves framed for murder. Now they need to prove their innocence while running from both the police and the assassin hired to kill them by big pharma.
The Target List is also available as a novel!
When are you filming?
Filming is scheduled for March 2021.
Use of donations:
We have already secured the necessary funding for this project and are looking for extra help to offset production expenses. All donations will be used exclusively for the production of the movie.
Perks:
–Donate $50 and receive an electronic copy of the book.
–Donate $100 and receive an e-copy of the book, Thank You credit, and a private link to online screening.
–Donate $200.00 and receive an e-copy of the book, co-executive producer credit, and a link to online screening.
$3,350.00 GIVEN SO FAR. (A HUGE THANK YOU GOES OUT TO ALL THE NOFAKENEWS VISITORS WHO HAVE SUPPORTED THIS PROJECT!)