Dr. John Reizer
I gave away thousands of copies of my novella, Plandemic, the past five days on Amazon.com. I did this to help inform people about the medical psyop that has been in play globally for all of 2020.
I have received emails through this website and through other accounts, telling me I am a nut, a conspiracy theorist, a terrible human being, and I should lose my license to practice my healthcare profession. A few people even told me that they hoped that I contracted COVID-19 in the future as punishment for spreading lies.
It took me six weeks to write the Plandemic novella in between seeing patients in my private practice. I worked tirelessly on the book without any great expectation of being compensated for my time. I do the same concerning the articles I write on NoFakeNews.
Family members have asked me why I devote time educating others who are ignorant and not appreciative of people trying to speak out against the evil taking place in the world?
I do it to prevent others from going through the horror and trauma that the woman in the above video has had to endure.
Imagine if this woman was your mother, wife, or a loved one. How would you feel?
When we speak about the plandemic and the machinations taking place in theoretical terms, most people probably do not register too much emotion. But when one of these vaccines irreparably harms someone close to us, real emotions will flood our brains and body.
WAKE UP BEFORE IT'S TOO LATE!
________________________________
PLEASE SIGN MY COVID-19 PETITION THAT REJECTS THE OFFICIAL NARRATIVE AND INVITATION TO TAKE THE VACCINE.
Next, screenshot your signed name on the petition platform, print a hardcopy, and keep it in a safe place.
PLEASE SIGN MY COVID-19 PETITION THAT REJECTS THE OFFICIAL NARRATIVE AND INVITATION TO TAKE THE VACCINE.
____________________________________
THE TARGET LIST MOVIE IS COMING TO AMAZON PRIME, AND WE'RE ABOUT TO EXPOSE BIG PHARMA!
In association with River Rose Productions, Mad Wife Productions has announced that The Target List movie will be filmed in March 2021.
UPDATE! — CAST TO BE ANNOUNCED SOON!
The pilot movie (screenplay written by MJ Palo and John Reizer) is based on the 2019 novel by John Reizer and will be filmed in March 2021. The Target List will be released in the summer of 2021 on Amazon Prime.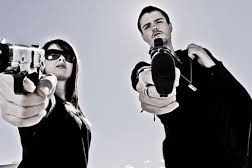 The Target List IMDb Official Movie Page 
GOFUNDME DONATIONS OF ANY AMOUNT ARE GREATLY APPRECIATED — PLEASE CLICK HERE!
What is the story?
After announcing a ground-breaking cancer cure, two members of a research team are shot by an assassin. The remaining two researchers barely escape the attack, only to find themselves framed for murder. Now they need to prove their innocence while running from both the police and the assassin hired to kill them by big pharma.
The Target List is also available as a novel!
When are you filming?
Filming is scheduled for March 2021.
Use of donations:
We have already secured the necessary funding for this project and are looking for extra help to offset production expenses. All donations will be used exclusively for the production of the movie.
Perks:
–Donate $50 and receive an electronic copy of the book.
–Donate $100 and receive an e-copy of the book, Thank You credit, and a private link to online screening.
–Donate $200.00 and receive an e-copy of the book, co-executive producer credit, and a link to online screening.
$3,000.00 GIVEN SO FAR. (A HUGE THANK YOU GOES OUT TO ALL THE NOFAKENEWS VISITORS WHO HAVE SUPPORTED THIS PROJECT!)

 ❤