Many fools who make up a significant portion of the world's population are under the illusion that once the various COVID-19 experimental toxic vaccines have been jabbed into their arms, life will go back to normal. These people believe all the draconian rules handed down by a world government and being implemented by different sovereign nations will be lifted in a few months. Think again!
I have written repeatedly for the past year that sars-cov-2 is a fake virus. It's never been isolated in totality from an animal or human host. It's been computer-modeled and presented to the world as a real pathogen. It can only exist in the public's psyche through an extensive medical psyop that has used rigged diagnostic (PCR) tests to generate false-positive case numbers. It's a paper tiger that uses the presence of common colds and other upper respiratory illnesses as evidence that the fake virus is real.
Many people are immunosuppressed and become ill like they do every year. This is because plenty of people receive toxic flu jabs beginning in August and continue the ridiculous practice well into the winter. The only difference this year, as compared to every other, is that the people who are running around with upper respiratory infections presently are lining up to take the rigged COVID-19 PCR tests at record numbers, and these tests are spewing back false-positive results at a very high rate.
In 2021, we can expect the controlling powers to roll out new strains of the fake virus, claiming that mutations occur. These claims will be part of the same science-fiction screenplay we have been watching all year.
Recently, in the United Kingdom, mainstream health officials have gone on record stating that a mutant form of the sars-cov-2 virus is on the loose. The citizens there have been placed on more strict lockdowns. We will soon learn that the new strain of the virus will not be contained, and it will spread internationally. Just as COVID-19 began in Wuhan, China, in late December and early January a year ago, the same line of theatrics will be performed on the world stage in 2021.
The vaccines that are being rolled out to contain sars-cov-2 will at first be reported to be effective for protecting people against the mutant strain of the virus. As time passes, the story will come out that the vaccine recipes will need to be tweaked to protect the public.
What will this mean for the world in 2021? It will mean more lockdowns, businesses closing their doors for good,  everybody wearing masks, citizens practicing more social distancing and more toxic vaccines.
Real viruses are parasites and require hosts to survive. Parasites don't want to kill their hosts because doing so would mean the virus line's end. Instead, they dial back their virulence so as not to bother the host.
Between natural immunity that occurs from the human immune system and naturally mutating viral pathogens, that always mutate to a more benign form versus a more lethal one, people can do what they have done on this planet for as long as people have lived here — they adapt to the microscopic viruses and bacteria that are in the environment.
We are being lied to by psychopaths running a medical psyop. Practically everything people have been taught about modern microbiology and infectious diseases is predicated on falsities and pseudoscience.
Wake up!
________________________________
PLEASE SIGN MY COVID-19 PETITION THAT REJECTS THE OFFICIAL NARRATIVE AND INVITATION TO TAKE THE VACCINE.
Next, screenshot your signed name on the petition platform, print a hardcopy, and keep it in a safe place.
PLEASE SIGN MY COVID-19 PETITION THAT REJECTS THE OFFICIAL NARRATIVE AND INVITATION TO TAKE THE VACCINE.
____________________________________
THE TARGET LIST MOVIE IS COMING TO AMAZON PRIME, AND WE'RE ABOUT TO EXPOSE BIG PHARMA!
In association with River Rose Productions, Mad Wife Productions has announced that The Target List movie will be filmed in March 2021.
UPDATE! — CAST TO BE ANNOUNCED SOON!
The pilot movie (screenplay written by MJ Palo and John Reizer) is based on the 2019 novel by John Reizer and will be filmed in March 2021. The Target List will be released in the summer of 2021 on Amazon Prime.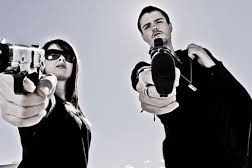 The Target List IMDb Official Movie Page 
GOFUNDME DONATIONS OF ANY AMOUNT ARE GREATLY APPRECIATED — PLEASE CLICK HERE!
What is the story?
After announcing a ground-breaking cancer cure, two members of a research team are shot by an assassin. The remaining two researchers barely escape the attack, only to find themselves framed for murder. Now they need to prove their innocence while running from both the police and the assassin hired to kill them by big pharma.
The Target List is also available as a novel!
When are you filming?
Filming is scheduled for March 2021.
Use of donations:
We have already secured the necessary funding for this project and are looking for extra help to offset production expenses. All donations will be used exclusively for the production of the movie.
Perks:
–Donate $50 and receive an electronic copy of the book.
–Donate $100 and receive an e-copy of the book, Thank You credit, and a private link to online screening.
–Donate $200.00 and receive an e-copy of the book, co-executive producer credit, and a link to online screening.
$3,000.00 GIVEN SO FAR. (A HUGE THANK YOU GOES OUT TO ALL THE NOFAKENEWS VISITORS WHO HAVE SUPPORTED THIS PROJECT!) ❤