Giveaway Begins 12:00 am Pacific Time
Plandemic — A Novella by John Reizer
On December 31, 2019, a novel coronavirus was mysteriously contracted by several people at a food market in Wuhan, China. The illness rapidly spread to different countries and eventually across Europe and the United States.
After a short period, world health regulatory agencies warned the global community that nobody had a natural immunity to the mysterious virus, and there would be massive casualties.
Dr. Julie Reiner, a chiropractor, and Donald Barnes, a lab technologist both from New Jersey, meet in New York City at The Event in October 2019, a simulated exercise about a world pandemic caused by a novel coronavirus. The two part-time crisis actors form a close romantic relationship along with a strong suspicion that a brand-new infectious disease rapidly spreading throughout the world is a hoax and mysteriously tied to the simulated event they worked.
While most people in the world remain paralyzed by fear from the nonexistent virus, a shadow government is busy at work, behind the scenes, preparing a diabolical vaccine for every living person on the planet.
Plandemic is a medical science fiction thriller about a global psyop that has the entire world convinced an infectious disease is killing the planet's population. The fake event has the potential to permanently destabilize world economies and forever change social paradigms that have existed through the eons of time. Will the planet's citizens wake up in time to figure out what is happening?
From the Author
Plandemic is a fictional story about an authentic and polarizing subject that has affected everybody's lives on the planet. There will undoubtedly be people that agree and disagree with the story's premise.
Cognitive dissonance will preclude many members of society from being able to embrace or even finish reading this novella. Understanding the world as it actually exists, versus how it has been portrayed by mainstream media corporations and others sitting high atop the great pyramid of knowledge, is often too difficult a task for most people.
My goal in writing Plandemic was to connect with open-minded readers capable of thinking critically about the official narrative surrounding COVID-19. If the book achieves that goal, the story will have served its intended purpose.
________________________________
PLEASE SIGN MY COVID-19 PETITION THAT REJECTS THE OFFICIAL NARRATIVE AND INVITATION TO TAKE THE VACCINE.
Next, screenshot your signed name on the petition platform, print a hardcopy, and keep it in a safe place.
PLEASE SIGN MY COVID-19 PETITION THAT REJECTS THE OFFICIAL NARRATIVE AND INVITATION TO TAKE THE VACCINE.
____________________________________
THE TARGET LIST MOVIE IS COMING TO AMAZON PRIME, AND WE'RE ABOUT TO EXPOSE BIG PHARMA!
In association with River Rose Productions, Mad Wife Productions has announced that auditions for The Target List movie will be held in December 2020.
UPDATE! — CAST TO BE ANNOUNCED SOON!
The pilot movie (screenplay written by MJ Palo and John Reizer) is based on the 2019 novel by John Reizer and will be filmed in March 2021. The Target List will be released in the summer of 2021 on Amazon Prime.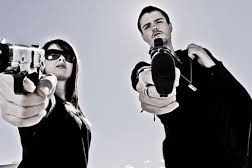 The Target List IMDb Official Movie Page 
GOFUNDME DONATIONS OF ANY AMOUNT ARE GREATLY APPRECIATED — PLEASE CLICK HERE!
What is the story?
After announcing a ground-breaking cancer cure, two members of a research team are shot by an assassin. The remaining two researchers barely escape the attack, only to find themselves framed for murder. Now they need to prove their innocence while running from both the police and the assassin hired to kill them by big pharma.
The Target List is also available as a novel!
When are you filming?
Filming is scheduled for March 2021.
Use of donations:
We have already secured the necessary funding for this project and are looking for extra help to offset production expenses. All donations will be used exclusively for the production of the movie.
Perks:
–Donate $50 and receive an electronic copy of the book.
–Donate $100 and receive an e-copy of the book, Thank You credit, and a private link to online screening.
–Donate $200.00 and receive an e-copy of the book, co-executive producer credit, and a link to online screening.
$3,000.00 GIVEN SO FAR. (A HUGE THANK YOU GOES OUT TO ALL THE NOFAKENEWS VISITORS WHO HAVE SUPPORTED THIS PROJECT!) ❤