As many of you already know, we are in a battle for our lives, and the enemy we are facing has an unlimited arsenal of weapons and mind control tools that beggars belief. It's hard for people to comprehend the seriousness of the situation even after spending months locked down, quarantined, face masked, and being held hostage by a world governing construct that has used a global medical psyop to usher in the most draconian set of directives the world has ever seen during modern society.
I am asking for your help. Please consider signing the petition below. You can even do so anonymously. If you prefer, your name will not be published on the petition, but your signature will be counted.
I have been in constant communication, behind the scenes, with some brilliant individuals who have a well-thought-out strategy to undermine and defeat the hidden enemy that is disrupting the world. We believe it will take 3 percent of the population to do what nobody feels is possible — end the plandemic.
Everything we need to win is within reach. But we must begin organizing, and we must be willing to get out of our comfort zones where we just sit back and let other people do all the work.
We need your signature, and we need it now! I know that people might feel that a single signature will not make a difference in the grand scheme of things, but it will. That's how the universe operates. The more people we have in numbers on databases, the better the chances are for success. I don't have the time to prove to you; this is how things work. Take my word for it and sign the petition. That is all you have to do at this point.
To read and sign the petition, please click on the petition image below.
Thank you for your consideration and cooperation concerning the petition document.
___________________________________
THE TARGET LIST MOVIE IS COMING TO AMAZON PRIME, AND WE'RE ABOUT TO EXPOSE BIG PHARMA!
UPDATE! — CAST AUDITIONS WILL BE HELD DECEMBER 20, 2020!
In association with River Rose Productions, Mad Wife Productions has announced that auditions for The Target List movie will be held in December 2020.
The pilot movie (screenplay written by MJ Palo and John Reizer) is based on the 2019 novel by John Reizer and will be filmed in March 2021. The Target List will be released in the summer of 2021 on Amazon Prime.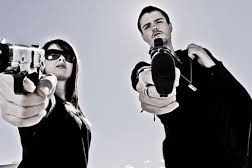 The Target List IMDb Official Movie Page 
GOFUNDME DONATIONS OF ANY AMOUNT ARE GREATLY APPRECIATED — PLEASE CLICK HERE!
$2,700.00 GIVEN SO FAR. (A HUGE THANK YOU GOES OUT TO ALL THE NOFAKENEWS VISITORS WHO HAVE SUPPORTED THIS PROJECT!) ❤