The video below is an animated presentation by Lubomir Arsov of everything going on in the shadows. It's a complex work that gives us some disturbing insight into our reality and modern society's suppressed truth.
Watch the film, then watch the analysis of the film that brings the production into focus.
Resources/Websites to visit:
www.makeamericansfreeagain.com
Please click here to visit the website, EVENT-202. You will find many resources there to help fight the nonsense currently taking place. I would suggest subscribing to this group so that we like-minded people can join forces and try to make a difference in the future. I know that some of you will not want to list your contact information, but I believe that time is no longer on our side, and we need to pull together our resources.
I have joined all the groups and given out my contact information. I believe we can be part of the solution or part of the problem. It's ultimately our choice.
We probably need 3 -5% of the population to understand what is happening to make a difference and turn things around. We already have the numbers but are not organized. LET'S ORGANIZE!
A summary of the world government's ultimate plan? CLICK HERE!
___________________________________
THE TARGET LIST MOVIE IS COMING TO AMAZON PRIME, AND WE'RE ABOUT TO EXPOSE BIG PHARMA!
UPDATE! — CAST AUDITIONS WILL BE HELD DECEMBER 20, 2020!
In association with River Rose Productions, Mad Wife Productions has announced that auditions for The Target List movie will be held in December 2020.
The pilot movie (screenplay written by MJ Palo and John Reizer) is based on the 2019 novel by John Reizer and will be filmed in March 2021. The Target List will be released in the summer of 2021 on Amazon Prime.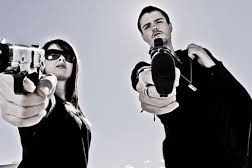 The Target List IMDb Official Movie Page 
GOFUNDME DONATIONS OF ANY AMOUNT ARE GREATLY APPRECIATED — PLEASE CLICK HERE!
$2,596.00 GIVEN SO FAR. (A HUGE THANK YOU GOES OUT TO ALL THE NOFAKENEWS VISITORS WHO HAVE SUPPORTED THIS PROJECT!) ❤