I have a few general announcements I would like to make and have decided to write this post to accomplish that business. I also want to provide readers with some updates and discuss my future plans concerning the NoFakeNews platform for 2021.
Announcements:
I want to thank everybody who regularly frequents this website. I know from the many emails and other communications I receive that there are plenty of people worldwide using this platform to get vital information about important subjects that cannot be accessed from traditional mainstream media sources.
I usually decrease the number of posts/articles I write in December because of the holidays and spending time with family and friends. In recent years, I have traveled and was, like many of you, visiting people or going on a holiday, or vacation as we say in the United States. This is not the case, of course, in 2020. My plan is to continue writing additional website content, with the same frequency, for the remainder of December.
Since this website's inception back in 2012, I usually assess the platform's statistics at the end of each year to evaluate ways to improve the effectiveness of what I am attempting to deliver to visitors. I also like to think over whether or not, in my opinion, there is a need to continue the venture and if I want to devote the necessary time that is required to do so in a somewhat professional manner. Obviously, the traffic on NoFakeNews has grown tremendously in 2020 because of the world psyop that has been handed down by a hidden but very active world government. Because of the dynamics in play, I have decided to continue to publish NoFakeNews in 2021 for as long as possible.
Updates:
I will be participating in another panel discussion on December 5, 2020, with experts residing in the UK and other European countries. We are attempting to brainstorm and come up with practical solutions to the problems facing all of us. As soon as the recording is completed and is made available on its platform, I will share the link and video on NoFakeNews.
My PLANDEMIC novella is available for sale on Amazon in both Kindle and softcover formats. Please buy copies of this book and distribute them as gifts to friends and family members that you believe are open to learning about the truth concerning what is taking place in the world. In a nutshell, the story I have written will teach people how the powers that be accomplished the biggest medical fraud in the world's history.
The PLANDEMIC novella will be free to all (KINDLE EDITION ONLY) from December 23 — December 27. If you haven't had a chance to obtain a copy because of limited finances, you will be able to do so at no cost. It's my gift to everybody this holiday season.
My novel, THE TARGET LIST, is currently in pre-production to become a pilot movie that will become regularly available on Amazon Prime in the summer of 2021. Many of you already know this information because I have tagged the project at the end of every post on the website to raise funds to help with some of the production's expenses. I am happy to report that auditions for the cast will take place in Reno, Nevada, on December 20 and that the project is on time and running smoothly. I want to also thank the people on this website and others who have generously donated funds to help make this project a reality. THE TARGET LIST movie will hopefully be well received, demonstrate the horrors of big pharma, and be picked up as a television series or full-length movie in the future.
The COVID-19 vaccines are being rolled out as I write these words, and it won't be long before the first shots are administered. Don't even think about taking these poisons. If you have loved ones or family members on the fence about what to do, send them to this website and let them read our articles.
___________________________________
THE TARGET LIST MOVIE IS COMING TO AMAZON PRIME, AND WE'RE ABOUT TO EXPOSE BIG PHARMA!
UPDATE! — CAST AUDITIONS WILL BE HELD DECEMBER 20, 2020!
In association with River Rose Productions, Mad Wife Productions has announced that auditions for The Target List movie will be held in December 2020.
The pilot movie (screenplay written by MJ Palo and John Reizer) is based on the 2019 novel by John Reizer and will be filmed in March 2021. The Target List will be released in the summer of 2021 on Amazon Prime.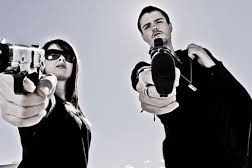 The Target List IMDb Official Movie Page 
GOFUNDME DONATIONS OF ANY AMOUNT ARE GREATLY APPRECIATED — PLEASE CLICK HERE!
$2,596.00 GIVEN SO FAR. (A HUGE THANK YOU GOES OUT TO ALL THE NOFAKENEWS VISITORS WHO HAVE SUPPORTED THIS PROJECT!) ❤