In December 1986, I graduated from chiropractic college and shortly thereafter was licensed to practice as a chiropractic physician in the state of New Jersey. I can remember those early days of my professional career quite vividly and the frustration that constantly came with being a member of a healthcare profession that traditional medical clinicians often looked down upon.
When I entered chiropractic college in the fall of 1983, I understood that the profession was a political fire-pit and frequently the very center of unwanted controversy. At the time, however, I did not fully comprehend all the reasons the chiropractic profession had been under attack for so many years.
My education from that point forward would become twofold; one part dedicated to teaching me the art, science, and philosophy of an incredible healthcare discipline and the other designed to teach me all the reasons chiropractic was constantly being placed in the crosshairs of a professional shooting squad administered by the medical profession and operated by its behind the scenes handler, the pharmaceutical industry.
I can recall the first time a light bulb went off in my head, and I made the all-important discovery that something was definitely afoul within the healthcare industry. I remember sitting in a general physiology course, learning about various biological pathways present in the body and thinking, medical professionals cannot be this misinformed about health and wellness. 
I was regularly reading in physiology textbooks how the body operated. Yet, the medical profession had thousands of procedures designed to interrupt and interfere with almost every normal body function. Why? The answer to my question was quite simple – Big Pharma!
It did not take me too long in my college years to realize that chiropractic principles and philosophical perspectives directly opposed the medical paradigm of managing sickness indefinitely. Medicine was not interested in the health of the population. It was hellbent on never allowing a human being the chance to have a proper expression of health. I now realized that big pharmaceutical companies would never commit to serious research to eradicate a single disease process. There simply was no money in any specific cure. Still, a huge cash cow existed for a profession that was willing to dedicate all its resources towards the indefinite management of a countless number of diseases (intellectual properties).
I have learned this after 36 years of being a student and chiropractic practitioner; chiropractic works really well in keeping people healthy. It allows each patient the opportunity to experience the best expression of health possible.
It has been a most rewarding professional career because I have witnessed thousands of patients get healthy and stay healthy. There's no amount of money in the world that I could have earned, and I have earned plenty through my profession, that would be as satisfying as watching a patient get healthy without being exposed to toxic drugs.
CLICK HERE FOR A FULL EXPLANATION ABOUT THE SCIENCE OF CHIROPRACTIC
Conversely, I have also learned that pharmaceutical companies realized long ago that their wealth and future earnings were only able to come to fruition by selling the false allopathic paradigm that health can only be achieved by administering toxic vaccines and other synthetic drugs in an attempt to make the human body and its associated chemistry stronger. This does not work, and it's why we have so many more diseases today than ever before.
___________________________________
THE TARGET LIST MOVIE IS COMING TO AMAZON PRIME, AND WE'RE ABOUT TO EXPOSE BIG PHARMA!
UPDATE! — CAST AUDITIONS WILL BE HELD DECEMBER 20, 2020!
In association with River Rose Productions, Mad Wife Productions has announced that auditions for The Target List movie will be held in December 2020.
The pilot movie (screenplay written by MJ Palo and John Reizer) is based on the 2019 novel by John Reizer and will be filmed in March 2021. The Target List will be released in the summer of 2021 on Amazon Prime.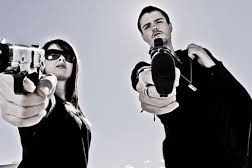 The Target List IMDb Official Movie Page 
GOFUNDME DONATIONS OF ANY AMOUNT ARE GREATLY APPRECIATED — PLEASE CLICK HERE!
$2,596.00 GIVEN SO FAR. (A HUGE THANK YOU GOES OUT TO ALL THE NOFAKENEWS VISITORS WHO HAVE SUPPORTED THIS PROJECT!) ❤