In the old sci-fi movie, They Live, the only way the general public was made aware that aliens were running the world was when the main protagonists in the story destroyed the satellite dish/broadcasting antenna that provided the continuous live television feed to a national viewing audience.
In that movie, citizens are continually hypnotized into believing a false perception of reality by media products.
In the real world, the corporately owned MSM has provided people with an assortment of national news stations packaged to appear different from one another but are not.
MSM products have created a hypnotic trance for citizens worldwide. As long as the public remains glued to the different news companies owned and operated by the powers that be, the global population will remain prisoners to a governing construct that seeks to hand down more and more draconian policies.
The MSM is very addicting and is damn near impossible for most folks to turn off. The different networks were designed to keep people watching nonstop disinformation.
During the current plandemic, the MSM, without any exaggeration whatsoever, has been a major purveyor of propaganda that has scared people into believing that the air around them they have inhaled their entire lives is dangerous. If these network companies can fool people into believing a nonexistent cold virus is a credible threat to human life and that society should give up its rights and freedoms to protect itself from that imaginary microbe, they can influence and fool the masses about anything.
Somehow, people must find the strength to disconnect from the hypnotic MSM if they ever hope to gain a real understanding of what is going on in the world.

___________________________________
THE TARGET LIST MOVIE IS COMING TO AMAZON PRIME, AND WE'RE ABOUT TO EXPOSE BIG PHARMA!
In association with River Rose Productions, Mad Wife Productions has announced that auditions for The Target List movie will be held in December 2020.
The pilot movie (screenplay written by MJ Palo and John Reizer) is based on the 2019 novel by John Reizer and will be filmed in March 2021. The Target List will be released in the summer of 2021 on Amazon Prime.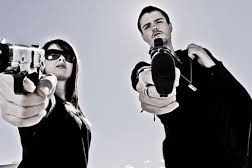 The Target List IMDb Official Movie Page 
GOFUNDME DONATIONS OF ANY AMOUNT ARE GREATLY APPRECIATED — PLEASE CLICK HERE!
$1,846.00 GIVEN SO FAR. (THANK YOU!!!