Reports are coming in from mainstream media publications that healthcare workers in California and other locations refuse to take the COVID-19 vaccines being made available to hospitals, nursing homes, and assisted living facilities.
I can write from personal experience about this subject because I care for healthcare workers (medical doctors, nurses, and therapists) in my private practice. These people have told me face to face about colleagues who are terrified of taking the COVID-19 vaccines. Medical personnel's refusal to take these products is real — so much that they are contemplating new career options.
Why is it important to report on medical people refusing to take the vaccines? The answer is simple; medical healthcare professionals are the most indoctrinated people globally when it comes to vaccines. The more initials people in medicine have after their names, the longer they spent in professional dogma centers (medical and science teaching universities). These medical people refusing to take the vaccines speak volumes about how scared the healthcare workforce must be.
The general public doesn't need to follow the advice of medical people one way or another. We should follow our own good common sense. The COVID-19 vaccines are experimental, untested, and unproven products that pose genuine risks to the public at large in the best-case scenario. I believe the vaccines will cause people many health problems initially and especially later on down the road.
I believe the plandemic and the rollout of the vaccines are part of a world governing construct's genocidal plan to cull the planet's population. And as strange as that theory may seem to many people who are regular consumers of mainstream media products, I honestly believe that is what's happening.
Tiffany Pontes Dover (Update)
Several weeks ago, Tiffany Pontes Dover, in a public relations disaster on live television, took the Pfizer COVID-19 vaccine and then passed out in front of the cameras 17 minutes later. After the nurse recovered, she gave an interview explaining that she had a longstanding health problem that regularly caused her to faint and that the syncopathic episode millions observed had not been triggered by the immunization. It was then rumored the nurse died ten hours later. I think that event scared the heck out of many healthcare people.
Nobody heard a word from nurse Dover for several days after her initial interview. Then the hospital she was employed at in Tennesee issued a brief statement claiming the woman was resting at home and was fine.
Tiffany Dover's social media platforms have been dark ever since she received the vaccine. After taking a dive on television, the nurse's only other appearance was a quick 40-second video where she was grouped together with other healthcare staff members. In that video, Dover and her colleagues were masked, and signs could be seen with the date displayed. To be honest, it's hard to determine if the woman in the video was nurse Dover because of the face mask. Many people have written comments on social media that the woman in the video was not Dover.
As far as updates on the Dover case, I have not been able to find any new evidence that the nurse has been seen in public or that there is fresh activity on her social media accounts. When I entered information about the woman on a search engine while writing this post, the same articles debunking the claims the nurse died appeared. There's nothing new that I have found, and based on my research abilities, I cannot locate any information that proves Dover has returned to work or that she is alive and well.
Either Tiffany Dover is hiding for a personal reason, which doesn't make any sense, in my opinion, or she has had a vaccine injury that she is still recovering from or worse.
________________________________
PLEASE SIGN MY COVID-19 PETITION THAT REJECTS THE OFFICIAL NARRATIVE AND INVITATION TO TAKE THE VACCINE.
Next, screenshot your signed name on the petition platform, print a hardcopy, and keep it in a safe place.
PLEASE SIGN MY COVID-19 PETITION THAT REJECTS THE OFFICIAL NARRATIVE AND INVITATION TO TAKE THE VACCINE.
____________________________________
THE TARGET LIST MOVIE IS COMING TO AMAZON PRIME, AND WE'RE ABOUT TO EXPOSE BIG PHARMA!
In association with River Rose Productions, Mad Wife Productions has announced that The Target List movie will be filmed in March 2021.
UPDATE! — CAST TO BE ANNOUNCED SOON!
The pilot movie (screenplay written by MJ Palo and John Reizer) is based on the 2019 novel by John Reizer and will be filmed in March 2021. The Target List will be released in the summer of 2021 on Amazon Prime.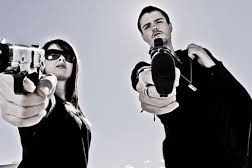 The Target List IMDb Official Movie Page 
GOFUNDME DONATIONS OF ANY AMOUNT ARE GREATLY APPRECIATED — PLEASE CLICK HERE!
What is the story?
After announcing a ground-breaking cancer cure, two members of a research team are shot by an assassin. The remaining two researchers barely escape the attack, only to find themselves framed for murder. Now they need to prove their innocence while running from both the police and the assassin hired to kill them by big pharma.
The Target List is also available as a novel!
When are you filming?
Filming is scheduled for March 2021.
Use of donations:
We have already secured the necessary funding for this project and are looking for extra help to offset production expenses. All donations will be used exclusively for the production of the movie.
Perks:
–Donate $50 and receive an electronic copy of the book.
–Donate $100 and receive an e-copy of the book, Thank You credit, and a private link to online screening.
–Donate $200.00 and receive an e-copy of the book, co-executive producer credit, and a link to online screening.
$3,350.00 GIVEN SO FAR. (A HUGE THANK YOU GOES OUT TO ALL THE NOFAKENEWS VISITORS WHO HAVE SUPPORTED THIS PROJECT!)

 ❤