Sadly, most people still have no idea that they have been targeted for genetic manipulation and harvesting. It's not as if the diabolical plan to modify the human genome was thought up a few years ago. The blueprint and means to permanently alter the human space suits — the bodies our souls occupy while navigating through life — have been in the works for decades.
The controlling powers, whoever or whatever they may be, want a more streamlined and efficient way to control the herd (you and me). That's what all of this noise taking place has been about from the time we were born into this world.
Since our very first days here, we've all been taught a carefully scripted presentation about what's real and what's not. Our collective perception of reality is very far removed from what's actually happening on this planet.
Our knowledge (or lack thereof) of many things transpiring today has come to fruition from the information we learned through various trusted sources controlled by different governments that have had a vested interest in distorting the public's understanding of life and our existence here.
From medical and physiological standpoints, we have continually been exposed to a plethora of synthetic drugs (poisons) packaged and marketed to appear as solutions to an enormous arsenal of made-up diseases (intellectual properties).
The marketing of prescription and non-prescription poisons to the general population is relentless. These days, the practice is so routine that people have become numb and dumb to the endless drug commercials that populate the mainstream media stations.
Product after product is advertised to potential healthcare consumers. And in each instance, the products being showcased are explained as dangerous and deadly, yet the public still consumes them.
A large consortium of drug companies has been assembled (big pharma) to serve as the tool to genetically change humanity. The diabolical plan has been in place for a while, and the means to accomplish the madness through a broad vaccination program has been tirelessly promoted and placed on the church of medicine's highest pedestal.
You don't believe the coming COVID-19 (Certificate Of Vaccine Identification -2019) vaccines will alter human beings' genetic code. What do you think the company MODERNA  (Modify RNA) stands for?
The eugenicists and psychopaths running the Earth show have been trying to get a hold of our valuable genetic information forever. Our genetic codes' systematic collection has been accomplished through hospital lab testing, donating blood, looking for long lost relatives by voluntarily submitting our DNA to private companies, and through other means.
The point is, when you give your most precious biological secrets to psychopaths, the end results will not be good.
___________________________________
THE TARGET LIST MOVIE IS COMING TO AMAZON PRIME, AND WE'RE ABOUT TO EXPOSE BIG PHARMA!
UPDATE! — CAST AUDITIONS WILL BE HELD DECEMBER 20, 2020!
In association with River Rose Productions, Mad Wife Productions has announced that auditions for The Target List movie will be held in December 2020.
The pilot movie (screenplay written by MJ Palo and John Reizer) is based on the 2019 novel by John Reizer and will be filmed in March 2021. The Target List will be released in the summer of 2021 on Amazon Prime.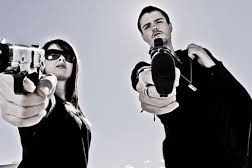 The Target List IMDb Official Movie Page 
GOFUNDME DONATIONS OF ANY AMOUNT ARE GREATLY APPRECIATED — PLEASE CLICK HERE!
$2,421.00 GIVEN SO FAR. (A HUGE THANK YOU GOES OUT TO ALL THE NOFAKENEWS VISITORS WHO HAVE SUPPORTED THIS PROJECT!) ❤