NORMAL YESTERDAY — a song by Sandy Edwards
© 2020 Sandy Edwards
If I had tried to tell people last December that a global medical psyop was about to happen in 2020 that would forever change the world, they would have looked at me like I was wearing a tinfoil hat.
When I attempt to tell people what has happened to the world in 2020 was preplanned and is nothing more than a well-orchestrated medical psyop — a genocidal plot to cull the world's population, they look at me like I am wearing a tinfoil hat.
Yesterday's normal was officially and forever changed within the last few days as human beings began receiving the genetic-altering sars-cov-2 vaccines that have been approved for distribution.
The masses are hypnotized, and there doesn't seem to be a way to magically snap our fingers to break the trance. What can we possibly do at this point to intervene and convince the herd that they are irreparably harming themselves as well as the human genome?
I remember reading an article in The New York Times back in April 2020 about how people should deal with conspiracy theorists who claim the COVID-19 virus is a hoax. The article goes on to explain how real and dangerous the sars-cov-2  virus is and how impossible it would be for the CDC and other health regulatory agencies to conspire with doctors and scientists all over the world to pull off such a well-coordinated hoax. The article even tries to suggest that people who question the officialdom surrounding the plandemic might suffer from clinical paranoia.
It's truly amazing how much influence the mainstream media publications and television programming have over the general public.
So, here we are, nearing the end of 2020, and the year-long plan has come full circle. The vaccines are available, and people are being filmed on national television as they stand in line with their sleeves rolled up to receive the COVID-19 jab.
We have officially said goodbye to yesterday's normal!
_________________________________
PLEASE SIGN MY COVID-19 PETITION THAT REJECTS THE OFFICIAL NARRATIVE AND INVITATION TO TAKE THE VACCINE.
Next, screenshot your signed name on the petition platform, print a hardcopy, and keep it in a safe place.
PLEASE SIGN MY COVID-19 PETITION THAT REJECTS THE OFFICIAL NARRATIVE AND INVITATION TO TAKE THE VACCINE.
____________________________________
THE TARGET LIST MOVIE IS COMING TO AMAZON PRIME, AND WE'RE ABOUT TO EXPOSE BIG PHARMA!
UPDATE! — CAST AUDITIONS WILL BE HELD DECEMBER 20, 2020!
In association with River Rose Productions, Mad Wife Productions has announced that auditions for The Target List movie will be held in December 2020.
The pilot movie (screenplay written by MJ Palo and John Reizer) is based on the 2019 novel by John Reizer and will be filmed in March 2021. The Target List will be released in the summer of 2021 on Amazon Prime.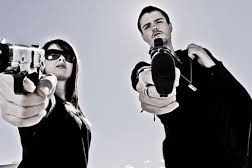 The Target List IMDb Official Movie Page 
GOFUNDME DONATIONS OF ANY AMOUNT ARE GREATLY APPRECIATED — PLEASE CLICK HERE!
$2,700.00 GIVEN SO FAR. (A HUGE THANK YOU GOES OUT TO ALL THE NOFAKENEWS VISITORS WHO HAVE SUPPORTED THIS PROJECT!) ❤