The CHI Memorial Hospital in Tennesee has released a 20-second video clip of nurse Tiffany Dover standing with fellow medical staff employees. According to the signs in the video, the recording was made on 12/21/20. This is certainly fantastic news! 🙂
Mrs. Dover has not given a face-to-face interview or commented on her social media platforms since suffering what appeared to be a vaccine reaction last week on live television after being jabbed with the controversial COVID-19 vaccine that was rushed to market at record speed.
There has been worldwide speculation on different Internet platforms that Mrs. Dover had suffered a more severe vaccine reaction than what was originally captured on video. Whether or not this was the reason that the healthcare professional has taken so long to make a public appearance is unknown.
The COVID-19 vaccine has been granted full liability immunity to protect the product's manufacturer from potential lawsuits stemming from anyone who might become injured from taking the drug.
All vaccines have limited liability protection under the (VICP) Vaccine Injury Compensation Program. When patients are injured by vaccines, excluding the new COVID-19 product(s), they can file a lawsuit in the VICP for a maximum award of $250,000.
The CDC has decided to investigate reported problems with the new coronavirus vaccine after thousands of people have reported adverse reactions from the product.
(ABOVE) Tiffany Dover After being Resuscitated
Tiffany Dover Standing with Colleagues on 12/21/20
Photo Credits: Twitter
______________________________
PLEASE SIGN MY COVID-19 PETITION THAT REJECTS THE OFFICIAL NARRATIVE AND INVITATION TO TAKE THE VACCINE.
Next, screenshot your signed name on the petition platform, print a hardcopy, and keep it in a safe place.
PLEASE SIGN MY COVID-19 PETITION THAT REJECTS THE OFFICIAL NARRATIVE AND INVITATION TO TAKE THE VACCINE.
____________________________________
THE TARGET LIST MOVIE IS COMING TO AMAZON PRIME, AND WE'RE ABOUT TO EXPOSE BIG PHARMA!
In association with River Rose Productions, Mad Wife Productions has announced that auditions for The Target List movie will be held in December 2020.
UPDATE! — CAST TO BE ANNOUNCED SOON!
The pilot movie (screenplay written by MJ Palo and John Reizer) is based on the 2019 novel by John Reizer and will be filmed in March 2021. The Target List will be released in the summer of 2021 on Amazon Prime.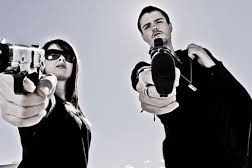 The Target List IMDb Official Movie Page 
GOFUNDME DONATIONS OF ANY AMOUNT ARE GREATLY APPRECIATED — PLEASE CLICK HERE!
What is the story?
After announcing a ground-breaking cancer cure, two members of a research team are shot by an assassin. The remaining two researchers barely escape the attack, only to find themselves framed for murder. Now they need to prove their innocence while running from both the police and the assassin hired to kill them by big pharma.
The Target List is also available as a novel!
When are you filming?
Filming is scheduled for March 2021.
Use of donations:
We have already secured the necessary funding for this project and are looking for extra help to offset production expenses. All donations will be used exclusively for the production of the movie.
Perks:
–Donate $50 and receive an electronic copy of the book.
–Donate $100 and receive an e-copy of the book, Thank You credit, and a private link to online screening.
–Donate $200.00 and receive an e-copy of the book, co-executive producer credit, and a link to online screening.
$2,800.00 GIVEN SO FAR. (A HUGE THANK YOU GOES OUT TO ALL THE NOFAKENEWS VISITORS WHO HAVE SUPPORTED THIS PROJECT!) ❤