How are you celebrating the holidays this year? Are you afraid to visit with family and friends, travel to other locations, go on vacations? Do you have people you would like to see, but those individuals are hesitant to have company because they are hunkering down, practicing self-isolation to limit their chances of contracting the dreaded virus that has yet to be found by real scientists?
People from this website, the patients in my private practice, friends, and other acquaintances have been asking me how I plan on celebrating the holidays this year.
Truth be told, we're not traveling this holiday season. In the past, my wife, daughter, and I have taken vacations this time of the year to distant locations, even in different countries. That's not happening in 2020, and maybe it won't happen again. I don't feel like getting on a plane and wearing a face mask for five hours, and most of my family lives close by, so I no longer have to get in a car and travel twelve hours to another state.
From that standpoint, COVID-19 has interrupted my family's travel plans this holiday season and for all of 2020. Last year we visited Ireland. This year we wanted to revisit Italy, but could not because of the plandemic. I would imagine that many people have delayed traveling this past year because of the travel restrictions that have been implemented by different US states and foreign countries.
If the airlines, in the future, require me to receive a vaccine to travel on a plane, I guess my days of flying on airplanes are over.
I am celebrating the holidays, locally, with family and friends. Other than the articles I write about COVID-19, the virus is the last thing on my mind. I don't watch the mainstream news and couldn't tell you the number of fake cases reported each day. I have not worn a face mask to date or been tested for the fake virus and have no plans to begin those practices in the future regardless of what presidential puppet sits his arse in the White House.
A few of my patients asked me if I planned on taking the COVID-19 vaccine. They didn't realize that I haven't taken any drugs whatsoever for decades. Since my twentieth birthday, I can count the number of pharmaceuticals I have taken on one hand. Most of them had to do with pain management due to dental procedures.
When I am expressing cold symptoms, I don't visit medical doctors. It doesn't matter if I am running a fever, sneezing, coughing, have a runny or stuffy nose, a sore throat, congestion, or anything else. I let the best doctor I know get me out of the crisis — my body!
I have been following this course of treatment my entire life, and I am undefeated so far. There hasn't been a virus or bacterial infection that I haven't recovered from. Like anybody else, I've been sick as a dog on different occasions, and I survived every time without taking drugs or vaccines.
ANNOUNCEMENTS AND REMINDERS:
Christmas week, the articles might be a little scarce on the website as I need to recharge a bit and be rested for what's sure to be a crazy year in 2021.
Additionally, the casting director for The Target List movie is holding live auditions this Sunday, December 20th, and I have been invited to view the taped auditions. I have also been informed that over thirty actors and actresses are auditioning for the movie and that the movie company wants to assemble the cast before Christmas. I will be involved with that process this weekend and next week.
Concerning that same subject, I want to give my sincere thanks to the NoFakeNews visitors, patients in my private practice, and others who have made a financial contribution to help offset some of the production costs associated with shooting the pilot movie. The GoFundMe webpage for The Target List movie has raised $2,800 to date, and we have received promises of $1,700 in additional donations over the next few months. Thank you again for your financial help.
The Target List movie will be available on Amazon Prime in the summer of 2021 and hopefully will be picked up as a series or full-length movie if it is well received on that platform. The pilot movie is based on my 2019 novella that goes by the same name. The novel/movie is a medical action thriller that entertains and exposes the big pharma companies' machinations. I will be posting cast announcements and firm dates on filming as they become available. The movie will be filmed in Reno, Nevada, in March 2021.
I wanted to promote my co-author's (MJ Palo) latest creative works:
Baby Money is a feature film starring Danay Garcia, Joey Kern, and Michael Drayer.  MJ Palo co-wrote the movie with Mikhael Bassilli.
Also, MJ Palo's, NoVirtue (Season One) is now available on Amazon Prime.
I wanted to remind everybody that my novella, Plandemic, will be available free of charge on the Amazon Kindle platform from December 23-27. If you have not had a chance to read the story, you can obtain a copy for free during these five days. Please share this promotion with friends and family members. It is one of the most important pieces of fiction you will ever read. For those of you who have read Plandemic, you have to admit that the book's ending is pretty darn close to what is happening in real life. And I wrote the story back in the summer of 2020.
I will be posting a few articles this week and resume publishing content with a more regular frequency after Christmas.
_________________________________
PLEASE SIGN MY COVID-19 PETITION THAT REJECTS THE OFFICIAL NARRATIVE AND INVITATION TO TAKE THE VACCINE.
Next, screenshot your signed name on the petition platform, print a hardcopy, and keep it in a safe place.
PLEASE SIGN MY COVID-19 PETITION THAT REJECTS THE OFFICIAL NARRATIVE AND INVITATION TO TAKE THE VACCINE.
____________________________________
THE TARGET LIST MOVIE IS COMING TO AMAZON PRIME, AND WE'RE ABOUT TO EXPOSE BIG PHARMA!
UPDATE! — CAST AUDITIONS WILL BE HELD DECEMBER 20, 2020!
In association with River Rose Productions, Mad Wife Productions has announced that auditions for The Target List movie will be held in December 2020.
The pilot movie (screenplay written by MJ Palo and John Reizer) is based on the 2019 novel by John Reizer and will be filmed in March 2021. The Target List will be released in the summer of 2021 on Amazon Prime.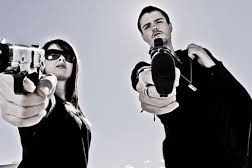 The Target List IMDb Official Movie Page 
GOFUNDME DONATIONS OF ANY AMOUNT ARE GREATLY APPRECIATED — PLEASE CLICK HERE!
$2,800.00 GIVEN SO FAR. (A HUGE THANK YOU GOES OUT TO ALL THE NOFAKENEWS VISITORS WHO HAVE SUPPORTED THIS PROJECT!) ❤