By Dr. John Reizer
There are so many mask-wearers out there, it's difficult to feel like there's any real possibility of getting through to people about the fact we are living through a genocidal plan to cull the world's population, not a public health emergency.
I went to a supermarket in between my office hours today and I think that I was the only person in the entire store not wearing a face mask.
Then it was a trip to the drive-thru line at the bank — same thing, plenty of mask-wearers inside cars. And most of the drivers had no other passengers in their vehicles.
The powers that be have pulled off the perfect medical psyop and I believe that our world and its citizens will never be the same again.
In the afternoon, I argued with one of my patients about whether or not the virus was a hoax. I tried to avoid the discussion but the individual wouldn't let it go. Turns out, I couldn't let it go either. It's not in my DNA to avoid giving my full opinion about something when asked.
Most people are sleepwalking their way through life. They have been hypnotized by the mainstream media, social media, and smartphones. The only way to get through to the hypnotized is to get rid of the hypnotists. Until we can accomplish that, it's not too likely that we will be able to have an intelligent conversation with the general public about what is transpiring.
I keep thinking there must be some way to get through to people, but it's getting harder and harder to reach the sleeping.
Another patient of mine wore a face mask and a pair of plastic gloves. He wiped my exam table from top to bottom with a disinfectant napkin.
I am having trouble finding ways to interact with people who have a completely different perception of reality than I do. I know that I should be tolerant of others who are not awake, but I have to be honest with readers — I am losing my patience which could translate into me losing my patients. That's not a good thing for my professional practice.
Someone asked me if I would take the COVID -19 vaccine if it was mandated by the chiropractic board of examiners and the government to keep practicing. Truth be told, I wouldn't take the vaccine under any circumstances. When is it ever a good idea to take a deadly poison? How about never?
On the count of three, I will snap my fingers and the world's citizens will awaken. Oh, if only it were that easy.
Please sign my petition if you have not already done so. Then stop wearing a face mask, socially distancing yourself from others, and pretending to be afraid of a nonexistent coronavirus.

The world governing construct that is responsible for the plandemic is going to kill lots of people, and I don't want you to be among the casualties.
SIGN THE COVID-19 PETITION THAT REJECTS THE OFFICIAL NARRATIVE AND INVITATION TO TAKE THE VACCINE.
____________________________________
THE TARGET LIST MOVIE IS COMING TO AMAZON PRIME, AND WE'RE ABOUT TO EXPOSE BIG PHARMA!
UPDATE! — CAST AUDITIONS WILL BE HELD DECEMBER 20, 2020!
In association with River Rose Productions, Mad Wife Productions has announced that auditions for The Target List movie will be held in December 2020.
The pilot movie (screenplay written by MJ Palo and John Reizer) is based on the 2019 novel by John Reizer and will be filmed in March 2021. The Target List will be released in the summer of 2021 on Amazon Prime.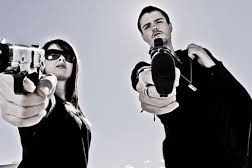 The Target List IMDb Official Movie Page 
GOFUNDME DONATIONS OF ANY AMOUNT ARE GREATLY APPRECIATED — PLEASE CLICK HERE!
$2,700.00 GIVEN SO FAR. (A HUGE THANK YOU GOES OUT TO ALL THE NOFAKENEWS VISITORS WHO HAVE SUPPORTED THIS PROJECT!) ❤