Watch the latest video by David Icke that provides additional evidence that the sars-cov-2 (Covid-19) virus does not exist. Along with many others, I have been writing about this fake plandemic since the beginning of 2020.
I have explained to readers on this platform many times that COVID-19 is nothing more than a scripted psyop with actors and actresses playing carefully designed and thought-out roles.
It's all a Hollywood screenplay, and we, the public, have been watching a year-long movie the entire time, thinking that there is this deadly public health emergency.
Take a look at this movie trailer below that was recently released. The name of the film is Songbird, and it portrays what life might look like in the United States and other areas of the world in the future.
Do you think that this film's writers and producers might have had some inside information that came from the original script that is playing out in real life right now?
___________________________________
THE TARGET LIST MOVIE IS COMING TO AMAZON PRIME, AND WE'RE ABOUT TO EXPOSE BIG PHARMA!
UPDATE! — CAST AUDITIONS WILL BE HELD DECEMBER 20, 2020!
In association with River Rose Productions, Mad Wife Productions has announced that auditions for The Target List movie will be held in December 2020.
The pilot movie (screenplay written by MJ Palo and John Reizer) is based on the 2019 novel by John Reizer and will be filmed in March 2021. The Target List will be released in the summer of 2021 on Amazon Prime.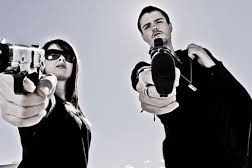 The Target List IMDb Official Movie Page 
GOFUNDME DONATIONS OF ANY AMOUNT ARE GREATLY APPRECIATED — PLEASE CLICK HERE!
$2,421.00 GIVEN SO FAR. (A HUGE THANK YOU GOES OUT TO ALL THE NOFAKENEWS VISITORS WHO HAVE SUPPORTED THIS PROJECT!) ❤