Viewed from the unique perspective of the world's controlling powers, individual human lives are not important. The one-percenters believe that the average person is quite dispensable in the grand scheme of things.
There exists a globalist mindset that people are little more than a drain on the world system — weeds in an otherwise beautiful garden. And just like any profit-minded farmer looking to produce a bountiful crop, the one-percenters also believe that their garden needs pruning from time to time. That time is now!
The eight thousand or so elitists that make real-world policies and affect the lives of billions of people living on Earth are eugenicists at heart. They want to create a world of genetically modified obedient slaves that can be managed efficiently and without being too much of a drain on society.
These elitist eugenicists want fewer people living in their world so that their overall system of managing things from the top down can be streamlined and a lot more productive. They want the current human herd accounted for (microchipped), genetically altered, and living in urban smart cities so they don't use up the natural resources the elitists have claimed for themselves.
The one-percenters have embarked on a plan to commit global genocide, a diabolical and lethal strategy that will result in billions of casualties. Their precalculated actions will make all previously combined atrocities against human beings look small.
The Covid-19 world plandemic is the ruling elite's genocidal plan. The monsters we call our government leaders have implemented a blueprint that has been handed down to them by a world governing construct.  That schematic will murder billions of innocent people deemed by the few who control the many as useless eaters. We are now witnessing firsthand the early stages of that psychotic plan to cull the global population. People who cannot see what is happening have either been blinded through mass mind control techniques or are cognitive dissonance victims.
When I listen to the draconian rants coming from different US governors, it sickens my stomach. It's hard to watch and listen to these vile reptiles dressed in professional attire.
One serpent governor from a US state demanded that citizens rat out their neighbors and call the police if they observed people celebrating the holidays. Are you kidding me?
Some sheriffs in another US state made a collective decision not to enforce unconstitutional Covid-19 laws that were put in place by another corrupt governor. In frustration, the tyrant governor responded to the policemen by saying, "You don't have the right to pick laws that you think you will enforce, and you don't enforce laws you disagree with, right? That's not a law enforcement officer, that's a dictator."
No governor, you are wrong! As an elected official, you don't get to create unconstitutional laws and infringe upon the rights of people you are supposed to represent. This is especially true when the laws you are attempting to apply are directly related to a fake virus that has never been isolated or identified by real scientists anywhere in the world.
It is mindboggling that so many people worldwide refuse to protest the nonsense that has been rammed down our collective throat in 2020. Perfectly healthy people have been placed under quarantine. Citizens cannot work, are unable to visit family and friends, are unable to move about freely, and are waiting to be jabbed with a poison that will irreparably damage their bodies and undoubtedly destroy their lives.
The 2020 world plandemic has nothing to do with a lethal virus. It has nothing to do with protecting the people of the world from a public health emergency. It has everything to do with a diabolical plot to thin the world's population with a vaccine product that was made far in advance of this year.
The Covid-19 vaccine recipe has most likely been waiting in the wings for a long time. It can take as long as a decade to perfect a dangerous vaccine that maims and kills many in society. Are people so foolish that they believe a new vaccine can be created at "warp speed" to mitigate a viral microbe that hasn't been found through scientific methodologies?
___________________________________
THE TARGET LIST MOVIE IS COMING TO AMAZON PRIME, AND WE'RE ABOUT TO EXPOSE BIG PHARMA!
In association with River Rose Productions, Mad Wife Productions has announced that auditions for The Target List movie will be held in December 2020.
The pilot movie (screenplay written by MJ Palo and John Reizer) is based on the 2019 novel by John Reizer and will be filmed in March 2021. The Target List will be released in the summer of 2021 on Amazon Prime.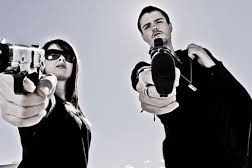 The Target List IMDb Official Movie Page 
GOFUNDME DONATIONS OF ANY AMOUNT ARE GREATLY APPRECIATED — PLEASE CLICK HERE!
$2,146.00 GIVEN SO FAR. (THANK YOU!!!)