The sign/banner below was displayed on a North Carolina bridge so that cars passing by on Interstate Highway 40 could clearly read the truth about the coming Covid-19 vaccines.
The sign/banner attracted so much attention that local mainstream news stations were forced to send out crews to perform damage control.
Photo Credit — FOX News
A FOX news station in my neck of the woods reported that local doctors and hospital executives were concerned that the sign would confuse people and scare them away from taking the soon to be released COVID-19 vaccines.
I hope that is exactly what the sign on the bridge will do.
They had a physician come on the news program and confirm the bridge sign was truthful. Still, the doctor attempted to marginalize the banner's veracity by stating that if a person were to take the vaccine and grew purple hair four years later, they wouldn't be able to sue the vaccine maker.
You just have to shake your head in amazement when you watch news clips that come from the mainstream media. They have no shame whatsoever in creating and disseminating disinformation.
When people take the COVID-19 vaccine, they will be damn lucky if the only bad reaction to the medicinal concoction is purple hair four years down the line.
The local FOX affiliate covering this story completely glossed over that an untested and unproven vaccine that has never been used before has total liability immunity. The millions upon millions of people who will be irreparably harmed by the products will have no legal recourse.
I am a citizen journalist and reported way back in March 2020 that the COVID-19 vaccines would have total liability immunity. How many mainstream news companies have covered this fact? This is a big deal! People need to know that the vaccine products they are about to have injected in their arms come with a big risk, a risk not willing to be insured by the drug companies or the United States government.
The good news is that people are beginning to wake up. Hopefully, this trend will continue in the future.
___________________________________
THE TARGET LIST MOVIE IS COMING TO AMAZON PRIME, AND WE'RE ABOUT TO EXPOSE BIG PHARMA!
In association with River Rose Productions, Mad Wife Productions has announced that auditions for The Target List movie will be held in December 2020.
The pilot movie (screenplay written by MJ Palo and John Reizer) is based on the 2019 novel by John Reizer and will be filmed in March 2021. The Target List will be released in the summer of 2021 on Amazon Prime.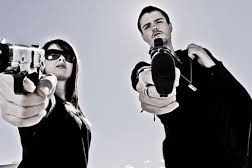 The Target List IMDb Official Movie Page 
GOFUNDME DONATIONS OF ANY AMOUNT ARE GREATLY APPRECIATED — PLEASE CLICK HERE!
$2,421.00 GIVEN SO FAR. (THANK YOU!!!)