Colleges and universities across America began requiring their students, faculty, and staff to produce a negative Covid-19 PCR test before returning to campuses in August 2020. The policies to get everybody mass tested and produce negative sars-cov-2 test results are expanding across the nation. If colleges and universities are permitted to reopen in January 2021, there's an excellent chance that nobody will be permitted on campus without having been tested for the fake and nonexistent Coid-19 virus.
The Typical College/University Covid-19 Policy:
You will not be permitted into campus housing, enter campus property, or attend classes unless you produce a COVID-19 PCR negative test result and produce that test result at check-in. You must provide a test result, either on letterhead or an electronic copy from a medical provider/testing center that states your name, the test date, and that your PCR test is negative. If you arrive without a COVID-19 PCR negative test, you will not be permitted on campus property.
The draconian policy to have all higher education institutions mass test employees and students in order to work or resume their college education is a form of medical tyranny. The policy is an example of oppressive power and decision making by the government over the population. In this particular scenario, the campus community exerts tyrannical policies over the student body and its employees.
The Dangers Associated with this Policy:
The sars-cov-2 virus does not exist in real life. The virus that has allegedly been isolated by science-based medicine is nothing more than an artificially assembled chain of genetic sequencing that was computer-synthesized from inputting data from already identified and published coronavirus strains not named sars-cov-2 (Covid-19).
When the campus communities across America are given rigged PCR-tests that will undoubtedly return a plethora of false-positive case numbers, the victims will have their lives interrupted, be subjected to quarantine, self-isolation, and contact tracing protocols.
The Covid-19 plandemic is the biggest fraud ever perpetrated against the world and its citizenry. Perhaps the scariest thing associated with the fakery taking place for all of 2020 is that regardless of the amount of proof handed to government leaders that demonstrate the virus is not real, there is no attempt by these officials to modify the official narrative. All information and logic that disproves the existence of the alleged virus seem to fall upon deaf ears.
What happens when the tyrannical policies being issued by colleges and universities across America are modified to include the words: Covid-19 vaccine? Will the campus communities continue to genuflect to the administrative morons in charge?
Whatever happened to free-thinking and college protests? Students and faculty better wake up real fast and stand up for their rights. I am perplexed by the fact that there seems to be very little resistance, if any, to these draconian and tyrannical practices that are being implemented throughout academia.
-Dr. John Reizer
A Former Associate Professor of Clinical Sciences (1998-2010)
___________________________________
THE TARGET LIST MOVIE IS COMING TO AMAZON PRIME, AND WE'RE ABOUT TO EXPOSE BIG PHARMA!
In association with River Rose Productions, Mad Wife Productions has announced that auditions for The Target List movie will be held in December 2020.
The pilot movie (screenplay written by MJ Palo and John Reizer) is based on the 2019 novel by John Reizer and will be filmed in March 2021. The Target List will be released in the summer of 2021 on Amazon Prime.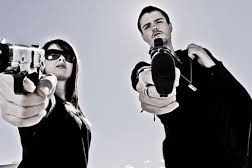 The Target List IMDb Official Movie Page 
GOFUNDME DONATIONS OF ANY AMOUNT ARE GREATLY APPRECIATED — PLEASE CLICK HERE!
$2,146.00 GIVEN SO FAR. (THANK YOU!!!)