It is vitally important for those who are awakened not to lose sight of the more pressing problem facing humanity because of other presently circulating distractions. We are all in the midst of a genocidal plot to cull the human population through a vaccine agenda.  The vaccine agenda was brought to fruition through a medical psyop that shows no signs whatsoever of being scaled back by the world governing construct that controls individual sovereign governments on earth.
Those are the real facts that people need to be concerned about!
Regardless of what CEO of THE UNITED STATES OF AMERICA, INC. sits in the Oval Office in the White House that is situated in the District of Columbia, a territory of  68.30 square miles located on the Potomac River bordering Maryland and Virginia, people need to understand that the health of their bodies and the health of their offspring are at serious risk.
The sources I have read and trust convinced me long ago that THE UNITED STATES OF AMERICA and The united states of America, not in capital letters, designate two different countries. One country has a corporate flag with a gold fringe around its perimeter displayed in federal buildings and government offices in defined federal territories. The other does not have the gold fringe. It represents the lands of the fifty states referred to in the Declaration of Independence.
The country with capital letters denotes that it is, in fact, a corporation owned and operated by the British Crown. The POTUS is the CEO of the British corporation and nothing else. This is why he must yield to the decisions coming from individual state governors. His powers of authority seem to be severely limited to only federal territories.
In my considered opinion, it matters not what presidential puppet runs the federal corporation formerly known as The Virginia Company. We are in this situation because current leadership in the United States and other countries have genuflected to a bigger and more powerful government that prefers to stay in the shadows versus the light of day.
In all honesty, I cannot write that Donald Trump is the answer to America's and the world's problems because I don't know if this is true. I can and will write that a major medical psyop has been played on the American people. Mr. Trump endorsed and helped promote a vaccine agenda responsible for millions of people receiving a dangerous medicinal product.
We don't need government icons and leaders to show us the way to good health. These people cannot gain the power they yearn for without the contributions from a consortium of big pharma corporations that don't have the public's best interests in mind.
I don't want government leaders, government spokespersons, and government doctors telling my family members when to take medical tests, vaccines, and other drugs to mitigate microbial pathogens. Leave the business of managing my health to me.
Once again, let me reiterate the most important facts for people to focus on and understand:
Covid-19 is a fake illness that is not caused by a virus, nor can it be spread from person to person.
The alleged virus reported to cause Covid-19 is not a new coronavirus, and it has not spread throughout the world.
The alleged Covid-19 symptoms reported worldwide are common colds, pneumococcal, and upper respiratory infections that have been intentionally and inappropriately diagnosed as a new virus strain within the family of coronaviruses.
Human beings cannot become infected from respiratory droplets from other persons allegedly infected by Covid-19 because the virus does not exist.
Human beings cannot become infected by coming into close contact with a person who allegedly has Covid-19 because the virus does not exist.
Human beings cannot get the virus by touching a surface or object that allegedly has the virus on it and then touching their mouth, nose, or eyes because it does not exist.
The best way to protect human beings from the alleged virus is to realize that it doesn't exist, and there is zero chance of catching anything.
There is no need to stay home and avoid contact with others.
There is no need to wear face-coverings anywhere.
There is no need to clean and disinfect frequently touched surfaces.
There is no need to maintain a distance of six feet from other human beings.
No human beings are at risk of getting Covid-19 because the virus is a hoax and has never been scientifically isolated using Koch's postulates.
All recorded case numbers of Covid-19 are false-positive results originating from either CT scans, presumptive positive diagnoses, and PCR tests that are scientifically unreliable because they register false-positive results for other genetic materials commonly found in humans that are not named Covid-19.
There is no need to take a vaccine now or in the future for Covid-19 because the virus is a hoax.
The information being published and distributed by health regulatory agencies worldwide concerning Covid-19 is purposely misleading and counterproductive to maintaining a healthy functioning human immune system.
All therapeutic mitigation techniques recommended and promoted by health regulatory agencies worldwide are entirely useless and unnecessary concerning Covid-19 because the virus does not exist.
Covid-19 is a scripted psyop written by scientific writers and dress rehearsed in New York City in a simulation exercise titled EVENT 201 in the fall of 2019.
________________________________
PLEASE SIGN MY COVID-19 PETITION THAT REJECTS THE OFFICIAL NARRATIVE AND INVITATION TO TAKE THE VACCINE.
Next, screenshot your signed name on the petition platform, print a hardcopy, and keep it in a safe place.
PLEASE SIGN MY COVID-19 PETITION THAT REJECTS THE OFFICIAL NARRATIVE AND INVITATION TO TAKE THE VACCINE.
____________________________________
THE TARGET LIST MOVIE IS COMING TO AMAZON PRIME, AND WE'RE ABOUT TO EXPOSE BIG PHARMA!
In association with River Rose Productions, Mad Wife Productions has announced that The Target List movie will be filmed in March 2021.
UPDATE! — CAST TO BE ANNOUNCED SOON!
The pilot movie (screenplay written by MJ Palo and John Reizer) is based on the 2019 novel by John Reizer and will be filmed in March 2021. The Target List will be released in the summer of 2021 on Amazon Prime.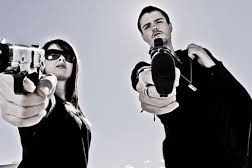 The Target List IMDb Official Movie Page 
GOFUNDME DONATIONS OF ANY AMOUNT ARE GREATLY APPRECIATED — PLEASE CLICK HERE!
What is the story?
After announcing a ground-breaking cancer cure, two members of a research team are shot by an assassin. The remaining two researchers barely escape the attack, only to find themselves framed for murder. Now they need to prove their innocence while running from both the police and the assassin hired to kill them by big pharma.
The Target List is also available as a novel!
When are you filming?
Filming is scheduled for March 2021.
Use of donations:
We have already secured the necessary funding for this project and are looking for extra help to offset production expenses. All donations will be used exclusively for the production of the movie.
Perks:
–Donate $50 and receive an electronic copy of the book.
–Donate $100 and receive an e-copy of the book, Thank You credit, and a private link to online screening.
–Donate $200.00 and receive an e-copy of the book, co-executive producer credit, and a link to online screening.
$3,550.00 GIVEN SO FAR. (A HUGE THANK YOU GOES OUT TO ALL THE NOFAKENEWS VISITORS WHO HAVE SUPPORTED THIS PROJECT!)