England — Aron Walton,  proprietor of the Holey Skin tattoo parlor in Gloucester Road, Bishopston, has been engaged in a nonstop battle with police officers trying to get the small business owner to shut down his business due to a second country-wide coronavirus lockdown.
Mr. Walton has been arguing that he and his business are exempt from following the draconian shutdown orders because he has asserted his common law rights.
Mr. Walton made the two videos below and posted them to his Instagram account to show viewers the interactions he has had with English police officers.
This exchange between police and a citizen trying to earn a living to keep his family safe is extremely disturbing, to say the least. It is also an excellent example that shows how police and law enforcement are willing to uphold ridiculous policies and laws that have been handed down by the controlling powers to take down the members of society.
What is happening in the UK will eventually occur in other countries worldwide. This is our future!
___________________________________
THE TARGET LIST MOVIE IS COMING TO AMAZON PRIME, AND WE'RE ABOUT TO EXPOSE BIG PHARMA!
In association with River Rose Productions, Mad Wife Productions has announced that auditions for The Target List movie will be held in December 2020.
The pilot movie (screenplay written by MJ Palo and John Reizer) is based on the 2019 novel by John Reizer and will be filmed in March 2021. The Target List will be released in the summer of 2021 on Amazon Prime.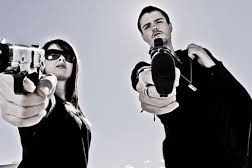 The Target List IMDb Official Movie Page 
GOFUNDME DONATIONS OF ANY AMOUNT ARE GREATLY APPRECIATED — PLEASE CLICK HERE!
$2,146.00 GIVEN SO FAR. (THANK YOU!!!)