By Van Robison
Humanity has been victimized by people without any conscience for a long time, and this dilemma involves virtually every aspect of human life imaginable.
Politics, governments, man-made wars, false flag operations, the media, the medical system, the ridiculous education system, and virtually anything else you can think of are under the management of psychopaths.
There is no such thing as citizens having freedom because tyrants continually attempt to dictate our lives. We must have a license to go fishing. We must have a license to drive a car. We must have a license to be a barber. We must have a license to live. We are fined and criticized for not wearing a face mask.
People without a conscience have caused massive human suffering and death for eons of time.
War is madness and insanity. Vaccines are madness and insanity, propelled by perpetual lies and propaganda. Never trust or believe the vaccine industry, the World Health Organization, the Centers for Disease Control, the Cancer Industry, or the medical mafia.
Our health and well being should not be the property of the money-driven medical system.
Common people have been massively deceived by "professionals" and "experts" who take advantage of most of the population's naive and gullible nature. We are all victims of psychopaths.
Do intense research, folks, and learn to recognize the crazies that run the earth.
___________________________________
THE TARGET LIST MOVIE IS COMING TO AMAZON PRIME, AND WE'RE ABOUT TO EXPOSE BIG PHARMA!
In association with River Rose Productions, Mad Wife Productions has announced that auditions for The Target List movie will be held in December 2020.
The pilot movie (screenplay written by MJ Palo and John Reizer) is based on the 2019 novel by John Reizer and will be filmed in March 2021. The Target List will be released in the summer of 2021 on Amazon Prime.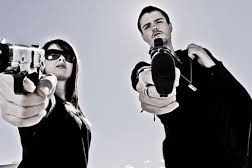 The Target List IMDb Official Movie Page 
GOFUNDME DONATIONS OF ANY AMOUNT ARE GREATLY APPRECIATED — PLEASE CLICK HERE!
$2,146.00 GIVEN SO FAR. (THANK YOU!!!)