By Anonymous
The world is in an uproar!
Destruction of the middle class by the 1% is killing small businesses, which ends in loss, hunger, and suicides/death!
The Medical Industrial Complex is busy making sure to profit trillions of dollars from their Frankenstein vaccines and medicines at the human race's demise.
The Military-Industrial Complex, the Medical-Industrial Complex, governments, governors, kings, queens, presidents, the United Nations, and all the other 1% puppets are using their power to put their boot on the face of humanity.
Evil puppets are spraying death into the atmosphere to poison the people's air.
GMO productions are being used to create a sick human race.
Poisons are being placed in our water to poison the people.
The controlling powers are removing anyone who attempts to threaten their intellectual properties/diseases.
There exists a tremendous push for profitable dirty energy, as opposed to clean energy, at the expense of earth's demise and everything on it.
It's become a plastic world for-profit, choking and killing the planet and everything here.
Mad scientists and others want to hook all human minds into an artificial intelligence network to monitor every breath and move we take — transhumanism.
Corruption, dictatorships, oppression, authoritarian dominance, overpowering bullying, and cruel injustices are being inflicted upon the human race by our so-called "leaders."
Indeed, the world is in an uproar, so what can we do?
The answers to all of humanity's problems are straightforward. It's not brain surgery.
JUST SAY NO — IT'S THAT SIMPLE!
Wear a mask, even in your own house?
NO!
Take this vaccine?
NO!
Stay 6 feet apart from each other at all times, even in your own house?
NO!
Do not gather more than 6 people at a time and for only 15 minutes?
NO!
Do not hug?
NO!
Stop spreading conspiracy theories?
NO! Most of the time, conspiracy theories are exposing the lies of pathological and already confirmed liars.
The sars-cov-2 (Covid-19) virus is real?
No, it is not!
This pandemic is real, and millions are dying?
No! The plandemic is fake and not based on scientific findings.
We just need to shut up and do as we are told?
NO!
We cannot worship in our churches?
NO!
We cannot take a walk on the beach?
NO!
We cannot do this activity without taking this precaution?
NO!
PEOPLE WORLDWIDE — JUST SAY NO!
It's that simple!
They're our bodies, our lives, our choices!
There is power in numbers; it's the only way we the people will win.
Starting today, open our businesses worldwide!
Don't wear a mask or get any kind of "shots" for anything. All vaccines are bad for people.
Go back to celebrating holidays, birthdays, like before the fake plandemic.
Crowd the beaches, lakes, rivers, and mountains like before the fake plandemic.
Crowd the farmer's markets, stores, outdoor concerts like before the fake plandemic.
Purchase only electric vehicles. What we buy is what the industry will produce.
Don't use plastic — paper bags for groceries (fruits and veggies) work well.
Only put organic foods in our bodies. What we buy is what the industry will produce.
We want to be healthy. Put the (ORGANIC) nutrition in our bodies and take the toxins out with cleanses. (heavy metals, radiation, etc.)
Breathe deep, breathe peace.
We, the people, have the power to take this world back.
The question is, will we?
The answer is so easy! Just say, no!
___________________________________
THE TARGET LIST MOVIE IS COMING TO AMAZON PRIME, AND WE'RE ABOUT TO EXPOSE BIG PHARMA!
In association with River Rose Productions, Mad Wife Productions has announced that auditions for The Target List movie will be held in December 2020.
The pilot movie (screenplay written by MJ Palo and John Reizer) is based on the 2019 novel by John Reizer and will be filmed in March 2021. The Target List will be released in the summer of 2021 on Amazon Prime.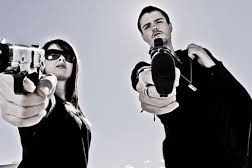 The Target List IMDb Official Movie Page 
GOFUNDME DONATIONS OF ANY AMOUNT ARE GREATLY APPRECIATED — PLEASE CLICK HERE!
$2,146.00 GIVEN SO FAR. (THANK YOU!!!)