The Covid -19 plandemic fraud is still in full swing. The second round of lockdowns that will lead to the destruction of people's businesses is about to commence in the United States. It's already happening in other countries.
For Americans, the march towards socialism is too unbelievable for their educated minds to process.
US citizens are being censored like never before and are no longer able to write about or speak the truth.
A fake and nonexistent novel coronavirus has been placed into existence by science fiction writers. The script is a strong one and backed with an arsenal of rigged diagnostic tools that make the fake disease appear to be a menacing health emergency.
People worldwide have been conditioned to obediently wear face masks. They comply without putting up any resistance whatsoever.
And now, the final act of the screenplay is upon us — the vaccine!
The vaccine is what this has been all about from the beginning way back in January. Getting people to stay home, wear a face mask, and fear a fake microbe were the necessary steps to get everybody to voluntarily take an untested and genetic altering medical potion that will forever change the way humans can adapt to their natural environment.
Stop complying with the policies the psychopaths are writing. We know the script. We know the ending. It's not a good one for the citizens of the world.
WAKE UP! Stop following orders that have been issued to take us out.
The controlling powers are floating out more propaganda for the holidays in America. They tell people on social media that if they celebrate Thanksgiving, they will be dead for Christmas. Really?
I am sick and tired of hearing others tell me what I should or should not do regarding my health. That includes governments. I don't need the CDC or any other health regulatory agencies looking out for my family or me. I don't need politicians telling me where I should or should not go or what holidays I should or should not celebrate.
Leave me alone!
I have never listened to the recommendations coming from health regulatory agencies owned by big pharmaceutical companies, and I am not going to start now.
___________________________________
THE TARGET LIST MOVIE IS COMING TO AMAZON PRIME, AND WE'RE ABOUT TO EXPOSE BIG PHARMA!
In association with River Rose Productions, Mad Wife Productions has announced that auditions for The Target List movie will be held in December 2020.
The pilot movie (screenplay written by MJ Palo and John Reizer) is based on the 2019 novel by John Reizer and will be filmed in March 2021. The Target List will be released in the summer of 2021 on Amazon Prime.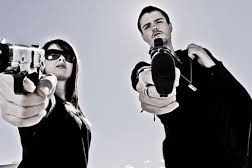 The Target List IMDb Official Movie Page 
GOFUNDME DONATIONS OF ANY AMOUNT ARE GREATLY APPRECIATED — PLEASE CLICK HERE!
$1,846.00 GIVEN SO FAR. (THANK YOU!!!)