There are several important items I wanted to share with readers. Many of our visitors help me keep aware of breaking news and are continually sending me new information and stories. Thank you for doing so, and please keep up the good work. It's much appreciated.
Items I Would Like you to Know About:
The rates of adverse reactions to COVID-19 vaccines are already 50 times higher than flu jabs. This is no big surprise. The COVID-19 vaccines are not vaccines. They are poisons incorrectly labeled vaccines. Additionally, the numbers of adverse reactions are most likely being downplayed by reporting agencies and the people responsible for disseminating those statistics. I want to point out that flu jabs are also toxic and dangerous poisons responsible for ushering in the sickness we regularly see spreading worldwide each "flu" season.
South Carolina lawmakers have pre-filed a bill looking to ban mandatory vaccinations. This is certainly great news and might help set a precedent if the bill were to become a law. Thanks go out to the representatives who authored this document.
Here is a disturbing patent that allows biometric authentication of a person's health status. This technology's end goal is to allow or deny people access to digital or virtual assets in the future based on if a person is deemed healthy or sick. This technology could also be used to determine if a person is vaccine compliant or not.
Many things are happening each day, and sometimes it is impossible to keep up with everything. If visitors see something important that needs to be added to the website, please let me know.
________________________________
PLEASE SIGN MY COVID-19 PETITION THAT REJECTS THE OFFICIAL NARRATIVE AND INVITATION TO TAKE THE VACCINE.
Next, screenshot your signed name on the petition platform, print a hardcopy, and keep it in a safe place.
PLEASE SIGN MY COVID-19 PETITION THAT REJECTS THE OFFICIAL NARRATIVE AND INVITATION TO TAKE THE VACCINE.
____________________________________
THE TARGET LIST MOVIE IS COMING TO AMAZON PRIME, AND WE'RE ABOUT TO EXPOSE BIG PHARMA!
In association with River Rose Productions, Mad Wife Productions has announced that The Target List movie will be filmed in March 2021.
UPDATE! — CAST TO BE ANNOUNCED SOON!
The pilot movie (screenplay written by MJ Palo and John Reizer) is based on the 2019 novel by John Reizer and will be filmed in March 2021. The Target List will be released in the summer of 2021 on Amazon Prime.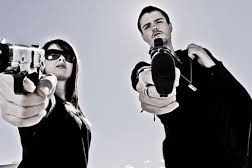 The Target List IMDb Official Movie Page 
GOFUNDME DONATIONS OF ANY AMOUNT ARE GREATLY APPRECIATED — PLEASE CLICK HERE!
What is the story?
After announcing a ground-breaking cancer cure, two members of a research team are shot by an assassin. The remaining two researchers barely escape the attack, only to find themselves framed for murder. Now they need to prove their innocence while running from both the police and the assassin hired to kill them by big pharma.
The Target List is also available as a novel!
When are you filming?
Filming is scheduled for March 2021.
Use of donations:
We have already secured the necessary funding for this project and are looking for extra help to offset production expenses. All donations will be used exclusively for the production of the movie.
Perks:
–Donate $50 and receive an electronic copy of the book.
–Donate $100 and receive an e-copy of the book, Thank You credit, and a private link to online screening.
–Donate $200.00 and receive an e-copy of the book, co-executive producer credit, and a link to online screening.
$3,350.00 GIVEN SO FAR. (A HUGE THANK YOU GOES OUT TO ALL THE NOFAKENEWS VISITORS WHO HAVE SUPPORTED THIS PROJECT!) 

❤