One of the subjects that comes up from time to time when discussing ways to opt-out of the current madness is common law. I think that many of us truth-seekers have heard of common law or the common law court but don't know much more than some surface information that we have happened upon through the grapevine.
In speaking with Ramola D. yesterday, she called my attention to a recent panel discussion she hosted with European community leaders about common law. The conversation is an interesting one and a place where our readers can get some information on the subject matter. Check it out below:
Additionally, anyone interested in registering their name with the common law court can do so for free by clicking here!
I am still awaiting the link to the panel discussion I took part in yesterday that served as a launching point for a think tank that will brainstorm strategies that might lead us out of the genocidal event we are all living through. I will get that discussion on NoFakeNews at some point later today or as soon as the production is forwarded to me.
___________________________________
THE TARGET LIST MOVIE IS COMING TO AMAZON PRIME, AND WE'RE ABOUT TO EXPOSE BIG PHARMA!
In association with River Rose Productions, Mad Wife Productions has announced that auditions for The Target List movie will be held in December 2020.
The pilot movie (screenplay written by MJ Palo and John Reizer) is based on the 2019 novel by John Reizer and will be filmed in March 2021. The Target List will be released in the summer of 2021 on Amazon Prime.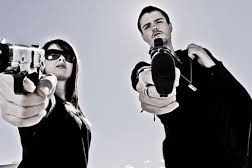 The Target List IMDb Official Movie Page 
GOFUNDME DONATIONS OF ANY AMOUNT ARE GREATLY APPRECIATED — PLEASE CLICK HERE!
$2,196.00 GIVEN SO FAR. (THANK YOU!!!)