I wanted to write a follow-up post today to the article I published yesterday concerning everything allegedly taking place behind the scenes here in America.
According to the videos that are regularly being made by Mr. Simon Parkes, the POTUS has signed the insurrection act, which means that martial law is about to be enacted in America.
According to Mr. Parkes, the POTUS is in a secure bunker, and the US military is in the process of running one of the biggest operations in history.
I want to make one thing clear. I do not know Simon Parkes personally, and there has never been any direct correspondence between us. He is an unknown source from my perspective. I was introduced to his content by several visitors to this website who wholeheartedly believe his information is accurate.
I want readers to understand that I am not writing Mr. Parkes' information is not truthful. At this point, I am like the rest of you — waiting for some signs from other sources that all of what is being claimed by this source might be truthful and coming to fruition.
If martial law is in the process of being implemented, we should see signs of the fact relatively soon. Claims such as this cannot be made and then withdrawn with apologies, excuses, or other editorial corrections later.
Over the years, I have determined many unknown sources' reliability or the lack thereof based on their reported information's accuracy. Those sources that have reported accurate information time and time again, I have labeled as reliable. Those that have not reported accurately are systematically removed from my list of reliable sources. It's truly a trial and error process for me when dealing with an unknown source — someone I have never met in person.
I have had many people ask if I believe Mr. Parkes and others like him who claim martial law is being implemented in America. My answer is that I am unsure. I want to see something with my own two eyes that would confirm this information. So far, I have not.
It seems a bit far-fetched to me if I am candid. The POTUS has supposedly been locked out of his Twitter and social media accounts. This is a man that walks around with the nuclear launch codes. The POTUS has access to a nuclear arsenal but is unable to tweet a message to the world? I am sorry, but I have a hard time believing some of the official narrative being reported. Still, I will wait until after January 20th to make a final assessment of the source material.
I will do my best to keep everybody updated as more information becomes available. Until then, we will all have to wait and see what unfolds next.
________________________________
PLEASE SIGN MY COVID-19 PETITION THAT REJECTS THE OFFICIAL NARRATIVE AND INVITATION TO TAKE THE VACCINE.
Next, screenshot your signed name on the petition platform, print a hardcopy, and keep it in a safe place.
PLEASE SIGN MY COVID-19 PETITION THAT REJECTS THE OFFICIAL NARRATIVE AND INVITATION TO TAKE THE VACCINE.
____________________________________
THE TARGET LIST MOVIE IS COMING TO AMAZON PRIME, AND WE'RE ABOUT TO EXPOSE BIG PHARMA!
In association with River Rose Productions, Mad Wife Productions has announced that The Target List movie will be filmed in March 2021.
UPDATE! — CAST TO BE ANNOUNCED SOON!
The pilot movie (screenplay written by MJ Palo and John Reizer) is based on the 2019 novel by John Reizer and will be filmed in March 2021. The Target List will be released in the summer of 2021 on Amazon Prime.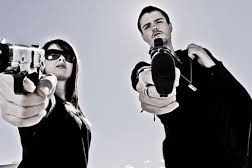 The Target List IMDb Official Movie Page 
GOFUNDME DONATIONS OF ANY AMOUNT ARE GREATLY APPRECIATED — PLEASE CLICK HERE!
What is the story?
After announcing a ground-breaking cancer cure, two members of a research team are shot by an assassin. The remaining two researchers barely escape the attack, only to find themselves framed for murder. Now they need to prove their innocence while running from both the police and the assassin hired to kill them by big pharma.
The Target List is also available as a novel!
When are you filming?
Filming is scheduled for March 2021.
Use of donations:
We have already secured the necessary funding for this project and are looking for extra help to offset production expenses. All donations will be used exclusively for the production of the movie.
Perks:
–Donate $50 and receive an electronic copy of the book.
–Donate $100 and receive an e-copy of the book, Thank You credit, and a private link to online screening.
–Donate $200.00 and receive an e-copy of the book, co-executive producer credit, and a link to online screening.
$3,550.00 GIVEN SO FAR. (A HUGE THANK YOU GOES OUT TO ALL THE NOFAKENEWS VISITORS WHO HAVE SUPPORTED THIS PROJECT!)