I have included a list of labels, phrases, and terms that I believe are important to know in the year 2020 and beyond. I have redefined some of them.
Anti-vaxxer – a person who refuses to vaccinate their children because they believe the medication is more dangerous than the benefits the products allegedly offer.
Anti-vaxxer Label – a creation of the pharmaceutical industry that has been used to identify and discredit any persons or groups that are in opposition to the current vaccine paradigm.
Conspiracy Theorist – a person who questions the statements and official narratives coming from well-known and established liars.
Coronavirus – a type of viral microbe that causes upper respiratory infections and common colds in immunosuppressed human beings and animals. They have been identified and isolated by scientific methodologies and have been known to exist for many decades.
Coronavirus Denier – a label created by the pharmaceutical industry and the planners of the fake world pandemic to shame certain members of the public into believing the official narrative about Covid-19. The label is attached to any person who refuses to accept the idea that the Covid-19 virus is real, a virus that scientists have never isolated or identified.
Covid-19 – Contact Tracing – a systematic way of tracking any persons who have allegedly been exposed or infected by people diagnosed with having Covid-19 by a rigged PCR-test that does not test for the presence of Sars-Cov-2.
Covid-19 – PCR Test – a rigged diagnostic tool that has been armed with genetic stock samples of other known coronaviruses not named Covid-19 as well as other genetic signatures that are thought to be comparable or similar to what COVID-19 might look like if it were to be identified or isolated by scientists. It does not test for the presence of Sars-Cov-2. This test is how the world plandemic was brought to life. It has also fooled members of the medical profession about the authenticity of the virus.
COVID-19 / Sars-Cov-2 – a fictitious novel coronavirus that has never been properly isolated or identified by scientific methodologies. It has allegedly been blamed for the 2020 world pandemic that has shut down the entire planet.
Covidiot – a person who refuses to listen to logic and believes the coronavirus is real even though the microbe has never been isolated, and the PCR tests are unreliable.
Endemic – the term used to describe a disease that regularly exists in a certain community. For example, measles is supposedly no longer endemic in the United States because there has been an absence of reported, continuous measles transmission cases for 12 months or longer. According to government regulatory agencies, the disease is only transmitted in the United States by unvaccinated citizens that visit foreign territories and then bring it back home. These individuals supposedly infect other US citizens that have not been vaccinated.
Epidemic – the term used to describe a disease that has increased its number of reported cases in a community at a rate of one case more than was anticipated by health officials. For example, if a specific community normally expected 5 cases of measles each year based on previously reported health statistics, and suddenly 6 cases were reported, this would be an epidemic.
NoFakeNews – an alternative news website dedicated to providing its readers with original, informative articles and news links worldwide. Our mission is to regularly provide the public with increased access to more reliable and truthful news products that are not always available from traditional media companies.
Outbreak – the term used to describe a disease reported in a community for the first time or not for several years. Or the cases currently being reported are one case higher than previously reported. For example, if a given community has one case of measles reported in a given year and there are normally no cases reported, this would be an outbreak and an epidemic.
Pandemic – the term used to describe a situation where several epidemics are being reported throughout a country, in different countries, or around the world at the same time.
Vaccines – synthetically created toxins that attack animal and human immune systems, allowing specifically engineered diseases to spread throughout the worldwide population over time. The vaccine industry regularly creates new diseases (intellectual properties) and then profits from them indefinitely.
_______________________
The Target List Movie is coming to Amazon Prime!
We're About to Expose Big Pharma!
$1,500.00 GIVEN SO FAR. (THANK YOU)!!!
DONATIONS OF ANY AMOUNT ARE GREATLY APPRECIATED — PLEASE CLICK HERE!
We're only $500.00 away from our goal!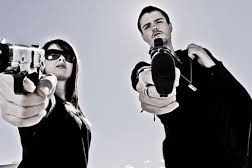 The Target List IMDb Official Movie Page 
Casting and Filming:
The auditions will be held in November 2020 (check updates and cast announcements here), and filming is scheduled for March 2021.