The video below was censored by a world government that has fabricated the global plandemic known as COVID-19. That power structure has complete control over all mainstream media companies and major Internet communication platforms such as YouTube.
The video removed featured the opinions of doctors and scientists from around the world who recorded their comments about sars-cov-2. The consensus from the real experts was that the vaccines developed to mitigate the fake coronavirus are unsafe and present an imminent threat to the human race!
Click here to view video on bitchute!
"Hello, my name is Dr. John Reizer, and I am a chiropractor and writer from the United States. The Covid-19 vaccine is not a safe product, and there is no world pandemic and public health emergency taking place. 
"The sars-cov-2 virus has never been fully isolated, identified, or extracted from a human or animal host, and the alleged genetic structure of the virus that has been published by the scientific community was computer modeled using data coming from other previously isolated/identified coronaviruses that have been known to exist for many decades.
"Since the sars-cov-2 virus does not exist, diagnostic PCR tests cannot be developed to identify the presence of COVID-19. Since the sars-cov-2 virus does not exist, a vaccine cannot be developed to protect humans or animals from COVID-19.
"I do not take any vaccines and will not be taking the COVID-19 vaccine today, tomorrow, or at any date in the future."
___________________________________
THE TARGET LIST MOVIE IS COMING TO AMAZON PRIME, AND WE'RE ABOUT TO EXPOSE BIG PHARMA!
UPDATE! — CAST AUDITIONS WILL BE HELD DECEMBER 20, 2020!
In association with River Rose Productions, Mad Wife Productions has announced that auditions for The Target List movie will be held in December 2020.
The pilot movie (screenplay written by MJ Palo and John Reizer) is based on the 2019 novel by John Reizer and will be filmed in March 2021. The Target List will be released in the summer of 2021 on Amazon Prime.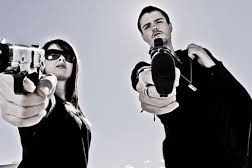 The Target List IMDb Official Movie Page 
GOFUNDME DONATIONS OF ANY AMOUNT ARE GREATLY APPRECIATED — PLEASE CLICK HERE!
$2,596.00 GIVEN SO FAR. (A HUGE THANK YOU GOES OUT TO ALL THE NOFAKENEWS VISITORS WHO HAVE SUPPORTED THIS PROJECT!) ❤