In the video below, Stefan Molyneux presents an interesting explanation of humanity's enslavement by human farmers. In my considered opinion, many of Molyneux's analogies and explanations about this subject matter are spot on.
I do have a slightly different take on the overall picture concerning the Earth show being run by the controlling powers. For one thing, I believe that the story of our enslavement has been in play for a lot longer than this author claims it has existed.
Regardless of the proposed timelines attached to the theory, this is an incredibly brilliant explanation of what is currently in play and took place for a substantial period of human history.
I am surprised that the video is still circulating on the Internet. Watch it before the clip disappears into the great abyss where a lot of other thought-provoking materials have vanished.
___________________________________
THE TARGET LIST MOVIE IS COMING TO AMAZON PRIME, AND WE'RE ABOUT TO EXPOSE BIG PHARMA!
In association with River Rose Productions, Mad Wife Productions has announced that auditions for The Target List movie will be held in December 2020.
The pilot movie (screenplay written by MJ Palo and John Reizer) is based on the 2019 novel by John Reizer and will be filmed in March 2021. The Target List will be released in the summer of 2021 on Amazon Prime.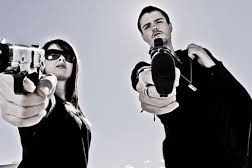 The Target List IMDb Official Movie Page 
GOFUNDME DONATIONS OF ANY AMOUNT ARE GREATLY APPRECIATED — PLEASE CLICK HERE!
$2,146.00 GIVEN SO FAR. (THANK YOU!!!)