Everything currently transpiring in the world regarding the Covid-19 pandemic is reactionary noise, and sleight of hand trickery brought to fruition from one important central component: a rigged PCR test kit.
If you remove the rigged PCR test kits being used worldwide from the equation, there is no longer a world pandemic. Without the test kits, there would be no Covid-19 case numbers. Without Covid-19 case numbers, there would have been no Covid-19 outbreaks, epidemics, and pandemics. Without a pandemic, there would have been no lockdowns, self-isolating, or quarantines.
If you want to commit a medical fraud of epic proportions and fool the entire world and medical community at the same time, design a rigged lab test that will consistently register false-positive results in a significant portion of society. Then convince the general public that they should keep getting tested repeatedly using the same lab test to keep driving the fake case numbers through the roof.
People have health challenges throughout the world every single day that have nothing to do with Covid-19. But when these individuals test false-positive for a fake virus because they were given a rigged PCR test, they are instantly placed in a statistical category that supports the plandemic.
As long as people continue taking a rigged PCR test designed to specifically confirm the existence of a fake disease, the coronavirus theatrical performance will continue.
_____________________________________
I COULD USE YOUR HELP!
The Target List Movie is coming to Amazon Prime!
We're About to Expose Big Pharma!
$1,250.00 GIVEN SO FAR. (THANK YOU)!!!
DONATIONS OF ANY AMOUNT ARE GREATLY APPRECIATED — PLEASE CLICK HERE!
We're only $750.00 away from our goal!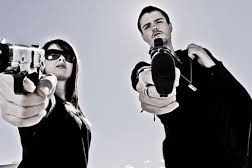 The Target List IMDb Official Movie Page 
Casting and Filming:
The auditions will be held October-November 2020 (check updates and cast announcements here), and filming is scheduled for March 2021.