By Van Robison
Words that challenge corruption are more feared by those in power than all the weapons of war.  Is it not more than obvious that censorship is a fear of truth?  Why does social media "fact check" and silence freedom of speech? Are they right, and everyone else is wrong?
Never believe "fact-checkers" or the censorship of social media. Television "news" is also the major source of social propaganda, and they are liars, deceivers, and mass-manipulators of lies and fraud.
Truth is found in small, still voices and those victimized by those with no conscience. All human history is a repetitive story of power over the innocent. The psychopaths rule and dominate and forever cause massive human suffering, just as they are doing in the global Covid-19 scam.
Naturally, the vaccine manufacturers will proclaim that they have a "safe" product against Covid-19. Don't believe them for one minute!
___________________________________
THE TARGET LIST MOVIE IS COMING TO AMAZON PRIME, AND WE'RE ABOUT TO EXPOSE BIG PHARMA!
In association with River Rose Productions, Mad Wife Productions has announced that auditions for The Target List movie will be held in December 2020.
The pilot movie (screenplay written by MJ Palo and John Reizer) is based on the 2019 novel by John Reizer and will be filmed in March 2021. The Target List will be released in the summer of 2021 on Amazon Prime.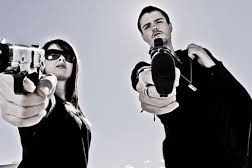 The Target List IMDb Official Movie Page 
GOFUNDME DONATIONS OF ANY AMOUNT ARE GREATLY APPRECIATED — PLEASE CLICK HERE!
$1,816.00 GIVEN SO FAR. (THANK YOU!!!)