By Van Robison
Covid-19 is an absurd pretense, that has been presented to humanity as a legitimate global health disaster.
Common people have been used and abused by an unseen governing power structure from the beginning of human life on earth. Only in modern times, however, has there been technology present that was capable of effectively penetrating the innate thinking abilities of people the world over.
Billions of citizens have been methodically transformed into non-thinking zombies, who believe television news, ink on paper and that radical voices speak the truth.
We are living under a worldwide dark cloud of human psychological manipulation and for very sinister motives.
The global charade we are all living through is the invention of psychopaths, who are raking in trillions of dollars in profits through worldwide vaccination programs.
It was only a few years ago when the World Health Organization announced the news about a life-saving vaccine to help mitigate a deadly swine flu pandemic. That vaccine destroyed the lives of thousands. The soon to be released Covid-19 vaccines will have far deadlier results.
Do the research folks, but don't ever believe the lies constantly coming from the vaccine industry.
___________________________________
THE TARGET LIST MOVIE IS COMING TO AMAZON PRIME, AND WE'RE ABOUT TO EXPOSE BIG PHARMA!
In association with River Rose Productions, Mad Wife Productions has announced that auditions for The Target List movie will be held in December 2020.
The pilot movie (screenplay written by MJ Palo and John Reizer) is based on the 2019 novel by John Reizer and will be filmed in March 2021. The Target List will be released in the summer of 2021 on Amazon Prime.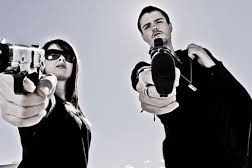 The Target List IMDb Official Movie Page 
GOFUNDME DONATIONS OF ANY AMOUNT ARE GREATLY APPRECIATED — PLEASE CLICK HERE!
$1,846.00 GIVEN SO FAR. (THANK YOU!!!)