If you read my novella, Plandemic, you already know that I believe the coronavirus fakery was cleverly orchestrated by the controlling powers. I wrote the novella back in July 2020, and it was published this past August.
In that story, the world was impacted by a second wave of the fake Covid-19 virus, and things progressed pretty much as they have in real life up to this point. The question remains, how far off was I in the fictional story's ending compared to what will come to fruition in the months ahead? And yes, I do make a prediction in the novel about what might transpire in the upcoming presidential election, the Inauguration, and the summer of 2021.
I will not give away my story's ending because I want you to read the novel.
Through the years, I have written articles about US presidential elections and how I believe that the two-party system is another psyop being perpetrated on the American public. Do you want to elect a Republican puppet or a Democratic one? That's been my take on the selection exercise that switches out United States Commander-in-Chiefs every four years.
In 2016, I swallowed the bait and drank the cool aide. I was on the Trump bandwagon and believed the POTUS was going to make America great again. Then came the plandemic of 2020 and all the draconian policies handed down by the United States government and all the other sovereign governments worldwide.
These horrific, tyrannical, and fascist policies were introduced and implemented in America during Donald Trump's four public office years. Did he know the virus was fake? Did he know that Covid-19 had never been isolated, discovered, or that it never originated from China? I think he did know.
The POTUS, for whatever reason, went along with the fakery. He became a willing participant for ten months and is guilty of perpetrating a great fraud against the American people.
Having written all of that, and the facts being what they are, here's what I would write if you asked me who would I rather see in the White House for the next four years – Trump or Biden.
Let me preface my answer by first writing the following: I do not consider myself a Republican or Democrat. I still believe the entire process of electing an American CEO for four years is a bunch of baloney designed to be a theatrical performance that serves to make American citizens believe they have a choice in picking a political leader. The choices we Americans have when electing a president are tantamount to selecting paper or plastic when asked to do so at the end of the grocery checkout line.
Getting back to the huge question on the table: Do I want four more years of Trump who refuses to wear a face mask and is willing to publicly minimize the importance of the virus, or do I want four years of Joe Biden who refuses to take off his face mask?
Do I want four more years of Donald Trump who wants to keep my business and others like it open, or four years of Joe Biden, who wants to create a national face mask mandate and shut America down indefinitely until the virus that doesn't exist is eradicated?
There is a long list of things that I dislike about Donald Trump. I could fill up ten pages writing about them. There's an even longer list that I could create concerning Mr. Biden.
If I am forced at gunpoint to pick the lesser of the two evils, I have only this to write: Let's keep America great!
_______________________
The Target List Movie is coming to Amazon Prime!
We're About to Expose Big Pharma!
$1,325.00 GIVEN SO FAR. (THANK YOU)!!!
DONATIONS OF ANY AMOUNT ARE GREATLY APPRECIATED — PLEASE CLICK HERE!
We're only $675.00 away from our goal!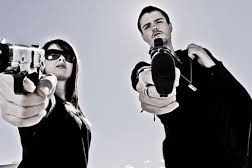 The Target List IMDb Official Movie Page 
Casting and Filming:
The auditions will be held October-November 2020 (check updates and cast announcements here), and filming is scheduled for March 2021.