The COVID-19 case numbers are spiking worldwide again, and this means…
… ABSOLUTELY NOTHING! It means another phase of the same psyop the world has been living through all of 2020 has been activated by the controlling powers. It means that more sleight of hand trickery is being pulled off right in front of our eyes. It means that more and more people are getting tested by rigged PCR lab tests that aren't searching for a SARS-CoV-2  virus because the microbe has never been isolated or identified by any scientists on the planet.
Understand this fact: People worldwide are not testing positive for Covid-19. They are testing false-positive for a rigged PCR test that was purposely designed to promote the existence of a fake virus.
Are you tired of this baloney yet? I know that I am.
Are you frustrated by the number of people walking around society wearing face masks and protective gloves?
Are you tired of watching uneducated and gullible fools hunkering down and withdrawing from society, acting as if they were sheep and unable to think critically about anything that has to do with the plandemic?
How the hell long do people want to wear face masks? Six more weeks, months, years, or maybe for the rest of their lives?
Let me write the words once again for those individuals who are still sleepwalking through 2020:
TAKE OFF THE DAMN FACE MASKS AND GROW A SPINE! STOP BEING AFRAID OF GERMS THAT YOU HAVE CO-EXISTED WITH ON THIS PLANET YOUR ENTIRE LIVES!
_____________________________________
The Target List Movie is coming to Amazon Prime!
We're About to Expose Big Pharma!
$1,250.00 GIVEN SO FAR. (THANK YOU)!!!
DONATIONS OF ANY AMOUNT ARE GREATLY APPRECIATED — PLEASE CLICK HERE!
We're only $750.00 away from our goal!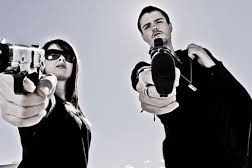 The Target List IMDb Official Movie Page 
Casting and Filming:
The auditions will be held October-November 2020 (check updates and cast announcements here), and filming is scheduled for March 2021.