By Van Robison
The World Health Organization should have no valid control over humanity. The United Nations is anything but United. Human health and well-being are not the property of politics, governing bodies, or corrupt and disingenuous organizations.
The WHO is a tyrannical dictatorship that feeds upon fearmongering and ulterior motives.  Human health and well-being are not now and never have been the property of organizations or person-made institutions.
Human health and well-being are private property.
How did these horrible organizations with no right to control living people get elevated into their current positions? How is it that criminal organizations such as these are perceived to be benevolent by the masses representing the best interest of citizens the world over?
___________________________________
THE TARGET LIST MOVIE IS COMING TO AMAZON PRIME, AND WE'RE ABOUT TO EXPOSE BIG PHARMA!
UPDATE! — CAST AUDITIONS WILL BE HELD DECEMBER 20, 2020!
In association with River Rose Productions, Mad Wife Productions has announced that auditions for The Target List movie will be held in December 2020.
The pilot movie (screenplay written by MJ Palo and John Reizer) is based on the 2019 novel by John Reizer and will be filmed in March 2021. The Target List will be released in the summer of 2021 on Amazon Prime.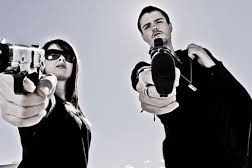 The Target List IMDb Official Movie Page 
GOFUNDME DONATIONS OF ANY AMOUNT ARE GREATLY APPRECIATED — PLEASE CLICK HERE!
$2,421.00 GIVEN SO FAR. (THANK YOU!!!)