David Icke has a new interview out with Dr. Andrew Kaufman that is a must-watch video. The discussion is about the PCR test and how absolutely useless the diagnostic tool is when assessing if a person has the imaginary Covid-19 disease.
As I have been writing for most of 2020, the planners of the world pandemic purposely chose a coronavirus as their villain and a PCR test to diagnose the fake disease in the population. The fraudsters knew in advance that coronaviruses have been present in society for decades and lots of people have antibodies present in their bodies. This fact is important because when serological testing is used to diagnose the condition, it ensures plenty of false-positive results.
The primary diagnostic tool used to diagnose Covid-19 is the PCR test. The architects of the psyop understood from the beginning that they would be able to manipulate and rig those test kits to consistently yield false-positive results throughout the entire world.
In my recent novella, Plandemic, I describe how the PCR tests were designed to support the fake pandemic's existence in real life.
We are about to enter, in my considered opinion, another stage of the psyop that has been designed to bring in more draconian lockdown procedures in the weeks and months ahead.
I also believe that the false-positive test results of the POTUS and the FLOTUS mark the official beginning of the next stage of the psyop. Time will tell for sure if what I am writing is accurate or not. Stay tuned for more updates.
______________________________________
The Target List Movie is coming to Amazon Prime!
We're About to Expose Big Pharma!
DONATIONS OF ANY AMOUNT ARE GREATLY APPRECIATED — CLICK HERE!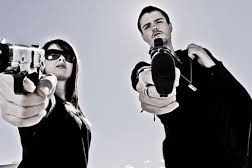 The Target List IMDb Official Movie Page 
Casting and Filming:
The auditions will be held October-November 2020 (check updates and cast announcements here), and filming is scheduled for March 2021.