During the 34 years I have been a practicing chiropractor, I have watched patients, friends, and family members succumb to cancer and the treatment protocols that were administered by medical professionals in an attempt to treat the diseases that were present in those individuals.
Before this whole COVID-19 fakery began, I focused my time and creative energies on another critical project.
In 2019, I wrote an important novel, The Target List, that later became an audiobook on the Audible platform. The story received strong reviews despite the fact it addressed a topic that most in society consider off-limits to criticism: big pharma.
In late 2019, I made an important contact with a talented screenwriter who later read my novel. To make a long story short, we collaborated on a project and transformed the book into a full-length screenplay. The goal now is to create a pilot movie.
Help me bring to fruition a creative work of fiction that will expose the many machinations of the pharmaceutical industrial complex.
We are fundraising for the pilot episode of The Target List.

We are looking for individuals interested in making small donations to produce the pilot that will be released next year on Amazon Prime. If the pilot is well received, we're hopeful the full-length production will be picked up as well.
What is the story?
After announcing a ground-breaking cancer cure, two members of a research team are shot by an assassin. The remaining two researchers barely escape the attack only to find themselves framed for murder. Now they need to prove their innocence while running from both the police and the assassin hired to kill them by big pharma.
The Target List is also available as a novel!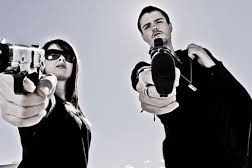 The Target List IMDb Official Movie Page 
When are you filming?
The auditions will be held October-November 2020 (check updates and cast announcements here), and filming is scheduled for March 2021.
Use of donations:
We have already secured the necessary funding for this project and are looking for extra help to offset production expenses. All donations will be used exclusively for the production of the movie.
CLICK HERE TO DONATE!

Perks:
Anyone donating $50 will receive an electronic copy of the book.
Anyone donating $100 or more will receive an electronic copy of the book, Thank You film credit, and a private link to screen The Target List online.
Anyone donating $200.00 or more will receive an electronic copy of the book, co-executive producer credit, and a private link to screen The Target List online.

Filmmakers:
MJ Palo (creator, director, executive producer) — MJ  is an award-winning screenwriter and director best known for her feature film Baby Money, starring Danay Garcia and Michael Drayer, web series No Virtue, and international short film Mommy's Pickles, available on Amazon Prime. MJ started her film career as a screenwriter but quickly discovered her passion for directing and producing.  MJ has produced/directed several shorts and TV pilots, and two of her feature screenplays, Unhinged and The Ripple Effect, are currently in development.
Watch Mommy's Pickles on Amazon!
Andrew Arguello  (director, cinematographer, editor) – Andrew has worked in the film industry for almost 10 years. He started his career with the Walt Disney Company, working in Florida and California. After leaving Disney to pursue independent filmmaking, Andrew started his own production company. Andrew's goal is to create the highest quality narrative stories, and has been involved with projects from low budget indie projects to world-famous high budget projects. He has worked with Gary Baum (Will & Grace), James Burrows (Will & Grace), and John Ealer (Netflix's Roman Empire) and on features such as "Desert Shadows," TV series such as "No Virtue" and shorts such as "10 Syllables" to name a few.
Trailer for No Virtue
Creator/writer:
John Reizer is a magna cum laude graduate of Sherman College of Chiropractic, a former associate professor of clinical sciences, and a practicing chiropractor for over 33 years. John has authored several novels. His most recent works are Plandemic, The Visitors, Aftermath, False Memory, The Homecoming, Frequency, and The Target List. He was also a co-executive producer of No Virtue season 1.