In association with River Rose Productions, Mad Wife Productions has announced that auditions for The Target List movie will be held in December 2020.
The pilot movie (screenplay written by MJ Palo and John Reizer) is based on the 2019 novel by John Reizer and will be filmed in March 2021. The Target List will be released in the summer of 2021 on Amazon Prime.
We are fundraising for the pilot movie and looking for individuals interested in making small donations. Although we have already secured the necessary funding for this project, we continue to look for extra help to offset some of the film's production expenses.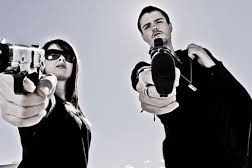 $1,816.00 GIVEN SO FAR. (THANK YOU)!!!
DONATIONS OF ANY AMOUNT ARE GREATLY APPRECIATED — PLEASE CLICK HERE!
The Target List IMDb Official Movie Page 
What is the story?
After announcing a ground-breaking cancer cure, two members of a research team are shot by an assassin. The remaining two researchers barely escape the attack only to find themselves framed for murder. Now they need to prove their innocence while running from both the police and the assassin hired to kill them by big pharma.
Use of donations:
All donations will be used exclusively for the production of the movie.
Perks:
–Donate $50 and receive an electronic copy of the book.
–Donate $100 and receive an e-copy of the book, Thank You credit, and a private link to online screening.
–Donate $200.00 and receive an e-copy of the book, co-executive producer credit, and a link to online screening.
Filmmakers:
MJ Palo (creator, director, executive producer) — MJ  is an award-winning screenwriter and director best known for her feature film Baby Money, starring Danay Garcia and Michael Drayer, web series No Virtue, and international short film Mommy's Pickles available on Amazon Prime. MJ started her film career as a screenwriter but quickly discovered her passion for directing and producing.  MJ has produced/directed several shorts and TV pilots, and two of her feature screenplays, Unhinged and The Ripple Effect, are currently in development.
Watch Mommy's Pickles on Amazon!
Andrew Arguello  (director, cinematographer, editor) – Andrew has worked in the film industry for almost 10 years. He started his career with the Walt Disney Company, working in Florida and California. After leaving Disney to pursue independent filmmaking, Andrew started his own production company. Andrew's goal is to create the highest quality narrative stories, and has been involved with projects from low budget indie projects to world-famous high budget projects. He has worked with Gary Baum (Will & Grace), James Burrows (Will & Grace), and John Ealer (Netflix's Roman Empire) and on features such as "Desert Shadows," TV series such as "No Virtue" and shorts such as "10 Syllables" to name a few.
Creator/writer:
John Reizer is a magna cum laude graduate of Sherman College of Chiropractic, a former associate professor of clinical sciences, and a practicing chiropractor for over 33 years. John has authored several novels. His most recent works are Plandemic, The Visitors, Aftermath, False Memory, The Homecoming, Frequency, and The Target List. He was also a co-executive producer of No Virtue season 1.