Undoubtedly, 2020 has not been a great year in many ways for a large majority of the people in the world. It's easy to get down and depressed about everything that has transpired concerning the world plandemic. Having written that, let me also write that although it's been a difficult period to get through, it was still possible for me to be productive and happy at times.
I am not writing this post to make readers believe that my life has been perfect and completely devoid of stresses and disappointing moments. I have been trying to figure out how to cope with craziness like everyone else in the world.
2020 has been a frustrating and sad year for me on the one hand and a significant and satisfying period on the other one.
While the lockdown prevented my family and me from traveling and it negatively impacted my professional chiropractic practice, it also allowed me the time to grow my alternative news website, write six novels, and co-author a screenplay that is being made into a movie.
I have been more creatively productive in 2020 than any year prior. In some respects, this year has helped me grow as a writer, and in other ways, that would have been impossible under more normal circumstances.
We all need to figure out the best ways to keep our minds healthy and engaged in stimulating activities. We also need to exercise and take care of our bodies as best we can under the current conditions.
I hope readers have gained some benefit from the articles I and others have published on NoFakeNews. We need to keep our chins high while not giving up on the world and especially ourselves.
____________________________
The Target List Movie is coming to Amazon Prime!
We're About to Expose Big Pharma!
$1,300.00 GIVEN SO FAR. (THANK YOU)!!!
DONATIONS OF ANY AMOUNT ARE GREATLY APPRECIATED — PLEASE CLICK HERE!
We're only $700.00 away from our goal!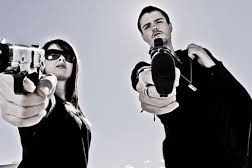 The Target List IMDb Official Movie Page 
Casting and Filming:
The auditions will be held October-November 2020 (check updates and cast announcements here), and filming is scheduled for March 2021.