An action-thriller feature screenplay
Written by MJ Palo and John Reizer
Based on the Novel, The Target List, by John Reizer
© 2019 by John Reizer and MJ Palo
IN A NUTSHELL:
The Target List is a high-energy, fast-paced medical-action-thriller feature screenplay that uniquely combines the exciting elements and drama found in the hit films COMA and JACK REACHER. It has a strong female protagonist and a cast of intriguing characters that provide nonstop action, dramatic effect, and the ability to drive the storyline towards a twist-ending. The Target List deals with the subject of cancer eradication and will be embraced by a broad audience that will instantly resonate with the many emotional elements associated with society's ongoing battle to maintain health in the ever-increasing presence of new diseases. The limited-location and limited-character setting allow a low-budget production. However, The Target List still belongs to the multi-million-dollar Hollywood action niche that is always looking for the next blockbuster and takes the audience to a 90-minute emotional and entertaining journey that leaves them yearning for a sequel.
LOGLINE: Assassins are hired by Big Pharma to permanently erase a team of doctors and their revolutionary new medical tool that cures cancer.
THE PILOT MOVIE:
It's actually happening! The Target List pilot movie is coming to Amazon Prime Television in the Summer of 2021. A shorter version of the action-thriller feature screenplay written by MJ Palo and John Reizer, based on the novel, The Target List, by John Reizer, will be produced and directed by MJ Palo and Andrew Arguello (River Rose Productions).
If you ever wanted to help expose the pharmaceutical industrial complex for what it really is, a detriment to the health and well being of all human beings, this is your chance and golden opportunity to do so.
If you help us by donating to the project, we'll put your name in the film's credits and even make you one of the co-executive producers.
Read below for more details!
______________________________________
The Target List Movie is coming to Amazon Prime!
We're About to Expose Big Pharma!
PLEASE DONATE A FEW DOLLARS IF YOU CAN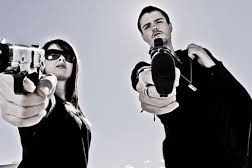 The Target List IMDb Official Movie Page 
Casting and Filming:
The auditions will be held October-November 2020 (check updates and cast announcements here), and filming is scheduled for March 2021.
Use of donations:
We have already secured the necessary funding for this project and are looking for extra help to offset production expenses. All donations will be used exclusively for the production of the movie. Please consider donating a few dollars to the film. Any amount you can afford helps!
Perks:
Anyone donating $50 will receive an electronic copy of the book.
Anyone donating $100 or more will receive an electronic copy of the book, Thank You film credit, and a private link to screen The Target List online.
Anyone donating $200.00 or more will receive an electronic copy of the book, co-executive producer credit, and a private link to screen The Target List online.