The COVID-19 vaccines that have been rushed to market to create immunity against the alleged sars-cov-2 virus that has never been isolated in totality from human or animal hosts through the application of scientific methodologies are experimental drugs.
The COVID-19 vaccines are all untested, unproven, and unsafe medicinal concoctions that have never been approved for humans. Instead, the products have been granted Emergency Use Authorizations by the FDA. What exactly does this mean? An Emergency Use Authorization allows for the distribution and administration of an untested, unsafe, and unapproved drug product to the clueless public.
EUA's are temporary allowances for experimental drugs to be used during government-defined public health emergencies. Under normal circumstances, people wouldn't be allowed to touch these medicines with a 200-feet pole.
No government under any circumstances whatsoever can order or force the public to take drug products, let alone an experimental one! The controlling powers are bluffing about vaccine mandates.
The Constitutionality of Vaccine Mandates
The entire narrative centered around vaccine mandates being constitutional is based on an outdated SCOTUS decision from the early 1900s known as Jacobson vs. Massachusetts. The case would never hold up in modern times because there are known side effects to all vaccine products that were unknown when this case was decided. The presiding Justices who ruled on the case stated that their decision was made the way it was entered because the vaccine, at that time, was determined not to be more dangerous to the public than the disease it was allegedly preventing.
If Jacobson vs. Massachusetts was ever retested in a modern legal setting, it would be overturned because of the known adverse reactions that have been scientifically proven to be associated with all current vaccines.
Know Your Drug Makers:
The Moderna biotech company, founded in the year 2010, is a relatively new startup that develops mRNA vaccines that modify mRNA in human beings. In other words, they are a company that is devoted to modifying human DNA. Readers need to understand that no mRNA vaccines have ever completed Phase III clinical trials or have been licensed for clinical use in human beings.[Wikipedia]
When you read articles in the mainstream press that report the Moderna COVID-19 vaccine does not modify human DNA, understand that these claims are not truthful.
People who volunteer to take these medicines are playing Russian roulette with all the bullets loaded in the gun's chambers.
Vaccine Effectiveness:
The Moderna COVID-19 vaccine that everyone is jumping up and down and clapping their hands for was shown in a Phase I trial to create a small, limited immune response reaction in volunteers aged 18-55 years.[Wikipedia]
Conflicts of Interest:
Dr. Moncef Slaoui resigned from Moderna to join the Trump administration's "Operation Warp Speed."  According to Wikipedia, Dr. Slaoui continued to hold millions of dollars in Moderna stock options while serving in his new role. Additionally, the United States federal government invested hundreds of millions of dollars in the biotech company. 
Moderna's Partners:
The Pfizer Corporation:
Charles Pfizer and his cousin, Charles Erhart, established the Pfizer pharmaceutical company in 1849 in Brooklyn, New York. Over the years, the venture has turned into a giant global drug corporation operating in more than 180 countries. Based on reported revenue streams, the Pfizer corporation is considered the biggest pharma company in the world.   (Seeger Weiss LLP)
The Pfizer pharmaceutical corporation has been sued thousands of times for medical injuries caused by the products they have brought to market. Pfizer also paid out the largest monetary fine ever for healthcare fraud when it paid a 2.3 billion dollar penalty that stemmed from a lawsuit filed by the U.S. Department of Justice.  (Seeger Weiss LLP)
And now people are going to risk their lives and the lives of their loved ones by foolishly taking the Pfizer COVID-19 vaccine? Keep in mind that the Pfizer company and all other COVID-19 vaccine makers have been granted total liability immunity from any lawsuits stemming from injuries caused by the COVID-19 vaccine products.
Pfizer Lawsuits:
Protonix
Prempro
Chantix
Depo-Testosterone
Zoloft
Effexor
Why does the gullible public continue to be medical cheerleaders for pharmaceutical companies that have a known track record of lying and causing great physical harm to citizens worldwide?
________________________________
PLEASE SIGN MY COVID-19 PETITION THAT REJECTS THE OFFICIAL NARRATIVE AND INVITATION TO TAKE THE VACCINE.
Next, screenshot your signed name on the petition platform, print a hardcopy, and keep it in a safe place.
PLEASE SIGN MY COVID-19 PETITION THAT REJECTS THE OFFICIAL NARRATIVE AND INVITATION TO TAKE THE VACCINE.
____________________________________
THE TARGET LIST MOVIE IS COMING TO AMAZON PRIME, AND WE'RE ABOUT TO EXPOSE BIG PHARMA!
In association with River Rose Productions, Mad Wife Productions has announced that The Target List movie will be filmed in March 2021.
UPDATE! — CAST TO BE ANNOUNCED SOON!
The pilot movie (screenplay written by MJ Palo and John Reizer) is based on the 2019 novel by John Reizer and will be filmed in March 2021. The Target List will be released in the summer of 2021 on Amazon Prime.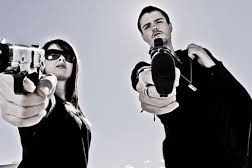 The Target List IMDb Official Movie Page 
GOFUNDME DONATIONS OF ANY AMOUNT ARE GREATLY APPRECIATED — PLEASE CLICK HERE!
What is the story?
After announcing a ground-breaking cancer cure, two members of a research team are shot by an assassin. The remaining two researchers barely escape the attack, only to find themselves framed for murder. Now they need to prove their innocence while running from both the police and the assassin hired to kill them by big pharma.
The Target List is also available as a novel!
When are you filming?
Filming is scheduled for March 2021.
Use of donations:
We have already secured the necessary funding for this project and are looking for extra help to offset production expenses. All donations will be used exclusively for the production of the movie.
Perks:
–Donate $50 and receive an electronic copy of the book.
–Donate $100 and receive an e-copy of the book, Thank You credit, and a private link to online screening.
–Donate $200.00 and receive an e-copy of the book, co-executive producer credit, and a link to online screening.
$3,000.00 GIVEN SO FAR. (A HUGE THANK YOU GOES OUT TO ALL THE NOFAKENEWS VISITORS WHO HAVE SUPPORTED THIS PROJECT!) ❤