If more people were like the woman in the video below, the plandemic nonsense would end immediately.
It's entirely unbelievable that citizens in the United States of America and other countries worldwide are, for the most part, willing to strap a cloth covering or face mask over their mouths and noses without putting up a fight.
The world's governments are forcing individuals to suffocate themselves under the guise of protecting the public from a fake cold germ.
According to the plandemic screenplay, doctors working in hospital centers worldwide are attempting to save people's lives who are having difficulty breathing with respirators. You see, these physicians learned somewhere along the way that oxygen is pretty damn important if you want to keep humans alive.
The same medical idiots tell healthy folks to cover their faces with a mask that reduces oxygen to their brains and vital organs throughout the day.
What the hell is wrong with everyone?
___________________________________
THE TARGET LIST MOVIE IS COMING TO AMAZON PRIME, AND WE'RE ABOUT TO EXPOSE BIG PHARMA!
In association with River Rose Productions, Mad Wife Productions has announced that auditions for The Target List movie will be held in December 2020.
The pilot movie (screenplay written by MJ Palo and John Reizer) is based on the 2019 novel by John Reizer and will be filmed in March 2021. The Target List will be released in the summer of 2021 on Amazon Prime.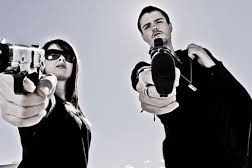 The Target List IMDb Official Movie Page 
GOFUNDME DONATIONS OF ANY AMOUNT ARE GREATLY APPRECIATED — PLEASE CLICK HERE!
$1,846.00 GIVEN SO FAR. (THANK YOU!!!)