If you have been reading along on this website for any length of time, you are aware of the fact that I don't believe the Sars-Cov-2 (Covid-19) virus is real.
If you don't have an isolated or identified virus, it would be impossible to construct a diagnostic tool to confirm the pathogen's presence in human beings or other animals. Likewise, it would be impossible to develop a vaccine that, in theory, could create antibodies and immunity against the viral microbe. As I have written previously, you cannot hit a target any percentage of the time if the target doesn't exist.
If you take the time to do an Internet search about Sars-Cov-2 being properly isolated in a laboratory, a bevy of results will populate your computer screen claiming that the coronavirus -19 version has been fully isolated by scientists and that the full genetic structure has been made available to scientists and healthcare physicians worldwide.
So what's the truth? Has the Sars-Cov-2 (Covid-19) virus been isolated or not?
In my opinion, and other skeptics like me, the answer to that giant question remains a resounding no! The full genetic structure has never been properly isolated, and therefore the virus has never been successfully grown in culture and passed through the scientific rigors known as Koch's postulates.
On October 9, 2020, I wrote an article  about  how the CDC clearly stated the coronavirus does not exist on page 39 of a CDC document titled,  "CDC 2019-Novel Coronavirus (2019-nCoV) Real-Time RT-PCR Diagnostic Panel."  Under the heading, PERFORMANCE CHARACTERISTICS, the document reads, "Since no quantified virus isolates of the 2019-nCoV are currently available…"
A brilliant medical research journalist, Jon Rappoport, discovered this CDC document and wrote about it first. He also wrote a collection of articles about how the genetic sequencing of sars-cov-2 was derived (or not derived) using computer modeling. Jon does a much better job of describing the technical details performed in the laboratory setting than me.
Read more about this document and how the genetic sequencing of Covid-19 was accomplished/not accomplished on John Rappoport's website by clicking here!
In a nutshell, what the plandemic's architects did to deliver the full genetic sequence of Covid-19 to the scientific community was to find a few pieces of genetic materials they believed were part of the coronavirus in question then assemble the rest of the structure by inputting data into a computer. The computer then assembled the rest of the structure based on data it was fed about other coronaviruses that have been in laboratory stock for many years.
In the end, a full-length genetic structure of Covid-19 was assembled. The only problem is that 99 percent of the structure was created hypothetically using a computer program. Once the virus's structure was conceived, it didn't take long for the scientific community to believe the nonsense created in the lab/studio. It's science fiction, my friends, not science.
What the scientists did to sequence the full structure of sars-cov-2 is tantamount to discovering an automobile sparkplug and then constructing the rest of the vehicle's design by inputting data into a computer.
As I stated prior, you must have a diagnostic tool to register false-positive cases when designing a plandemic. That tool is the PCR test. You must also have a long sequence of genetic materials claimed to be an isolated virus. The computer modeling Jon Rappoport describes accomplishes this requirement.
From the very beginning of this plandemic, way back in January 2020, I have believed that the Covid-19 virus was fake and that a coronavirus was handpicked by the controlling powers to be the deadly villain in this sci-fi screenplay because coronaviruses, in general, have been isolated and were well-known to be real entities for decades.
When you are trying to put together a medical hoax as big as Covid-19, you need case numbers to be generated regularly. Since so many people in the world have interacted with coronaviruses in their lives, the pandemic's planners knew far in advance that a rigged diagnostic PCR-test could be developed that would register large numbers of false-positive cases. Those diagnostic tests are presently registering false-positives more so because of the amplification cycles used when developing the lab results than the genetic signatures they have been armed with.
Conclusion:
It's pretty damn disingenuous, in my opinion, for the scientific community to report that they have isolated and fully identified the sars-cov-2 (Covid-19) virus when, in fact, the only things they have isolated were a few genetic sequences that half a dozen or so scientists agreed was the novel coronavirus. Next, they used computer modeling to assemble the other 99 percent of the structure.
When I think of scientists isolating and identifying a new viral microbe, I envision them identifying and isolating the entire, intact structure. Once again, this is just more evidence of scientific fraud that has been misrepresented as real science.
Covid-19 is not a real virus, and once people understand this fact, the rest of the story falls apart like a house of cards in the middle of a wind storm.
___________________________________
THE TARGET LIST MOVIE IS COMING TO AMAZON PRIME, AND WE'RE ABOUT TO EXPOSE BIG PHARMA!
In association with River Rose Productions, Mad Wife Productions has announced that auditions for The Target List movie will be held in December 2020.
The pilot movie (screenplay written by MJ Palo and John Reizer) is based on the 2019 novel by John Reizer and will be filmed in March 2021. The Target List will be released in the summer of 2021 on Amazon Prime.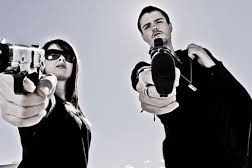 The Target List IMDb Official Movie Page 
GOFUNDME DONATIONS OF ANY AMOUNT ARE GREATLY APPRECIATED — PLEASE CLICK HERE!
$1,816.00 GIVEN SO FAR. (THANK YOU!!!)