By Van Robison
What we are witnessing before our very eyes is a COUP, which is treason by the Democratic party. Their vicious hatred of Donald Trump is unparalleled in American history. The censorship on social media by the psychopaths is sickening. The "fact-checkers" are biased and represent anti-freedom of speech. All television "news" is propaganda, and so is ink on paper and many Internet websites. We are drowning in an ocean of lies.
I am horrified at the ballot corruption that has taken place. It doesn't matter if people are registered Democrats or Republicans — they should be upset that the election process's integrity has been compromised. If legal votes are cast by the public and counted by election officials, and Joe Biden wins, I can live with the result. What I can't live with, nor should anyone else in America, is an election filled with fraud and cheating. There's no place for that in the United States of America.
Despite Donald Trump's faults, this country needed him to be re-elected. I don't think he is really pro-vaccine; he is just under immense pressure from the establishment. Donald Trump has actually done a great deal of good for this country, in my opinion.
If Joe Biden gets into the White House, chances are good that gas prices at the pump will escalate,  taxes will increase, lockdowns will be instituted, and businesses will be destroyed nationwide. We can also expect to be slapped with a national facemask mandate. Additionally, I believe he will go along with Big Pharma's recommendations and sign a national vaccine mandate.
I see America entering a very dark period under Joe Biden, who appears senile at times and will probably not complete his presidency due to mental incompetence. I fear he will be replaced by another incompetent person who is no more capable or qualified to be the POTUS than any common man or woman.
___________________________________
THE TARGET LIST MOVIE IS COMING TO AMAZON PRIME AND WE'RE ABOUT TO EXPOSE BIG PHARMA!
In association with River Rose Productions, Mad Wife Productions has announced that auditions for The Target List movie will be held in December 2020.
The pilot movie (screenplay written by MJ Palo and John Reizer) is based on the 2019 novel by John Reizer and will be filmed in March 2021. The Target List will be released in the summer of 2021 on Amazon Prime.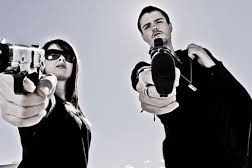 The Target List IMDb Official Movie Page 
GOFUNDME DONATIONS OF ANY AMOUNT ARE GREATLY APPRECIATED — PLEASE CLICK HERE!
$1,816.00 GIVEN SO FAR. (THANK YOU!!!)