We're born into this world, mostly, as healthy human beings. You don't find many newborns taking prescription drugs. As we progress through the childhood years, our parents are encouraged, through clever marketing campaigns, to take their children to medical physicians for wellness checkups. And so our parents, not knowing any better, follow the advice.
Little Johnny's first visit to the pediatrician begins with being weighed, followed by a thorough physical examination. After the doctor makes sure the child has ten toes and fingers, he or she begins to push the medical-industrial complex's agenda to vaccinate the hell out of every child.
"You see, Mr & Mrs. Clueless, little Johnny's immune system is not strong enough to defend him against all the terrible microbes in the environment," the pediatrician begins the industry's pitch.  "Even though the amazing intelligence that designed all 37 trillion cells inside Johnny's body and organized them into a flawlessly functioning human being is still present and working to keep him healthy every second he's alive, Johnny must receive all 58 of his scheduled vaccines. Without these amazing drugs that have been manufactured by for-profit pharmaceutical companies, Johnny will get a childhood disease that will cause him mild symptoms for a week or two that pale in comparison to the possible side effects of the actual drugs."
And so the assault on Johnny's immune system begins. If he's lucky, he'll be strong enough to survive the initial encounter with the medical maniac and not need to be hospitalized. If he's unlucky, he'll end up paralyzed, irreparably harmed, or dead. And if he's like most people, he'll remain asymptomatic for many years until the vaccines he's previously received cause him to contract cancer or some other type of autoimmune disorder that will require costly medical management in the form of expensive prescription drugs.
As Johnny grows older, he's continuously marketed to by a large consortium of drug companies that stress to him the importance of getting annual physical checkups from medical specialists. And Johnny, not knowing any better, follows the advice. He visits a general practitioner that performs another thorough physical examination. The good doctor draws some blood and sends it to a lab for analysis. When the results are returned, the physician tells Johnny that his cholesterol is slightly elevated and that he will need to take a prescription drug for the remainder of his life to help his body maintain a healthy level of cholesterol.
A few years later, Johnny visits another medical doctor who examines him and finds that his blood pressure is slightly elevated. Johnny is told that he will need to take a pill for the rest of his life to maintain healthy blood pressure in his body. Without this life-saving drug, Johnny is told he can expect to have serious health problems. So Johnny accepts the advice and fills the prescription.
A few more wellness checkups throughout Johnny's life will lead to additional life-saving drugs prescribed for him. And if Johnny hasn't kicked the proverbial bucket by then, there's a good chance he'll have been taking five or six prescription drugs every day for many years.
This is how Johnny and other healthcare consumers like him end up taking prescription drugs throughout their entire lives and never think twice about the illogicality of doing so.
Nonstop pharmaceutical marketing that has targeted all of us throughout our lives has hypnotized the masses. It's a big reason why so many people have fallen hook, line, and sinker for the COVID-19 fakery, a completely illogical narrative coming from a microbiological perspective.
Big pharma companies negatively influence all of our lives, whether we realize this or not. The coming coronavirus vaccine would have never been widely embraced by the world's population without all the previous groundwork being put in place by these multinational corporations.
______________________________________
The Target List Movie is coming to Amazon Prime!
We're About to Expose Big Pharma!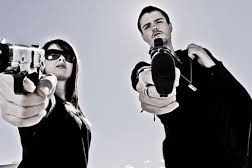 The Target List IMDb Official Movie Page 
Casting and Filming:
The auditions will be held October-November 2020 (check updates and cast announcements here), and filming is scheduled for March 2021.
Use of donations:
We have already secured the necessary funding for this project and are looking for extra help to offset production expenses. All donations will be used exclusively for the production of the movie. Please consider donating a few dollars to the film. Any amount you can afford helps!
Perks:
Anyone donating $50 will receive an electronic copy of the book.
Anyone donating $100 or more will receive an electronic copy of the book, Thank You film credit, and a private link to screen The Target List online.
Anyone donating $200.00 or more will receive an electronic copy of the book, co-executive producer credit, and a private link to screen The Target List online.